As part of giving back to the community in which they serve, Police ranks in Region Three (Essequibo Islands-West Demerara) have pooled their resources to purchase cleaning detergents to distribute to the residents who were affected by the recent floods.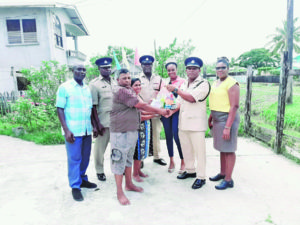 Police Commander of Region Three, Senior Superintendent Linden Lord, along with his ranks, conducted a distribution exercise on Wednesday, where they donated a variety of cleaning items to several households at Zeelugt, East Bank Essequibo (EBE).
The policemen also made the timely donations to a teacher attached to the New Horizon Daycare and Playgroup in the Den Amstel Village, West Coast Demerara (WCD), so that the items could be used to assist in getting the much-needed daycare centre up and running again.
Additionally, a Reverend of the Ebenezer Church Playgroup, which is also located at Den Amstel, WCD, received similar assistance from the law enforcement officials.
According to Commander Lord, all of the items distributed were purchased from monies that his Police officers took out of their pockets.
"My ranks willingly decided that they would donate monies towards purchasing the much-needed items so that they could help persons who were badly affected. This is our way of giving back to the community we serve and protect, and want to assist persons in this Region whenever we can," he stated.