…urge public to remain security conscious
As part of its aggressive crime fighting strategies, the Guyana Police Force says, it is going after those perpetrators who use motorcycles and bicycles to execute their criminal acts.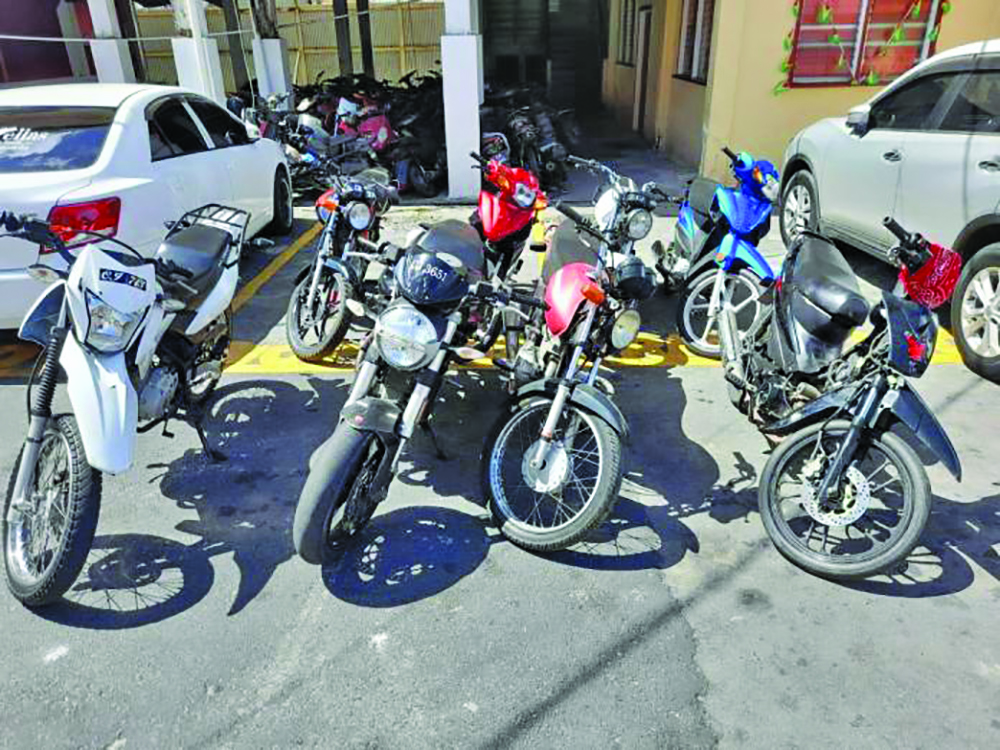 "Recognising that criminal-minded persons have been riding motor cycles and bicycles in their robbery attacks on citizens, extensive campaigns are ongoing in the Police Divisions to rein in and detain these vehicles, and arrest persons where applicable," the Police said in a statement on Wednesday.
It was noted that these exercises have already resulted in a number of motorcycles and bicycles being detained, and those are being processed to determine lawful ownership as well as other issues. Such campaigns were conducted in several communities around Georgetown and on the West Bank of Demerara.
Further, the Police Force has assured the general public that it continues to aggressively pursue crime fighting strategies in order to maintain its mandate of public safety and security. These intelligence-led strategies include mobile, foot and bicycle patrols; roadblocks, raids and searches among other things; along with the support of the Community Policing Groups.
Decline in serious crime
According to the Police, these constant operational activities have led to the overall decline of serious crimes for the year so far, which went down by 29.8 per cent when compared to the same period in 2020.
There was a 22.9 per cent reduction in murders, with 37 killings recorded to date compared to 48 for the similar period last year.
Meanwhile, armed robberies involving firearms have gone down by 38.4 per cent, while robberies with other instruments declined by 47.7 per cent.
In relation to narcotics, the Police said, its Narcotics Department have discovered some 122.4 kilograms of cannabis sativa (marijuana) as well as 267.2 grams of cocaine so far this year. A number of persons were prosecuted for these narcotics' finds.
Notwithstanding the assiduous efforts in its crime fighting posture, the Guyana Police Force is reminding members of the public to remain security conscious, especially when going out in public.
"[The Police] urge that, in addition to other safety precautions, [persons should] seek to refrain from moving around with large sums of cash, and avoid routines in their movements, wherever practical," Wednesday's missive detailed.
Attack on Police
However, even as the Police pursue efforts to tackle lawlessness in the country, the Force faces push back from some persons. Only recently, at least two persons have been charged and placed before the courts for attacking Police officers who attempted to arrest them.
Only on Tuesday, a minibus driver of Sophia, Greater Georgetown was arrested and charged following an altercation with a traffic cop. It was reported that Police Constable Edwin Connelly was on a motorcycle patrol on Homestretch Avenue when he pulled over the minibus, which had overtaken a line of traffic.
However, after being told of the offence and asked to produced his licence, the driver drove off and was pursued by the cop, who again intercepted him on Sheriff Street.
At that point, the driver exited the bus, proceeded to the left passenger side of the vehicle, retrieved a cutlass, and chased after the Constable, who ran away.
Nevertheless, the driver was eventually arrested at his Sophia residence.
This incident comes on the heels of 32-year-old businessman Terrence Lynch, being charged with four offences on Monday, including assaulting a Police officer and resisting arrest in relation to the incident, which occurred on April 13.
Police say that on the day in question, at about 09:55hrs, the traffic cop was performing duties with his motorcycle when he noticed motorcar PNN5061 parked diagonally at the Route 42 bus park.
The rank reportedly approached the vehicle and told the defendant of his offence. However, an argument ensued between the two. Further, when the Corporal attempted to arrest the defendant, he reportedly dealt him several cuffs about his body.
The businessman told the court that he has a stall at the market and had been using the same parking lot for some time now. As such, he explained that when the officer approached him, he became angry.
Condemned
During his weekly programme, Issues in the News, Attorney General Senior Counsel Anil Nandlall condemn such behaviour.
Nandlall acknowledged that while there is a lot of work to be done to repair the image of the Guyana Police Force as well as improve the professionalism and discipline of its ranks, it is the premier law enforcement agency in Guyana, and such actions cannot be condoned.
"They may be bad, but it is what we have, and we cannot encourage citizens taking up arms against the law enforcement agencies. This type of conduct must be deprecated, condemned in the strongest possible fashion. When this happens, you're striking at the very heart of Guyana as a civilised society. When the population is resisting and assaulting the law enforcement agencies, that is a serious thing," the AG posited.
Further, the Police Force is encouraging members of the public to confidentially communicate tips and information of any criminal activities via telephone numbers: Headquarters – 226-6978/225-8196 and 225-2700/ 225-6411; Region One (Barima-Waini) 777-5007/688-7084; Region Two (Pomeroon-Supenaam) 771-5004/774-4222; Region Three (Essequibo Islands-West Demerara) 268-2338/2329; Region Four (Demerara-Mahaica) 'A' (Georgetown) 227-1149/225-3064 and 227-1270/227-1611; Region Four 'B' (East Bank Demerara) 608-2284/216-0251/ 0252/0253; Region Four 'C' (East Coast Demerara) 229-2700/2750/2019/; Region Five (Mahaica-Berbice) 232-0313/ 232-0291; Region Six (East Berbice-Corentyne) 333-2151/ 333-5564; Region Seven (Cuyuni-Mazaruni) 455-2222/ 2241/2238; Region Eight (Potaro-Siparuni) 638-8440; Region Nine (Upper Takutu-Essequibo) 772-2087/2005; and Region 10 (Upper Demerara-Berbice) 444-3429/444-3512/ 3297. (G8)