– PPP/C says code of conduct will foster elections "free from fear"
Nine of the 11 political parties contesting Monday's General and Regional Elections signed onto a code of conduct, with the majority expressing confidence that the agreement among parties would foment a more amicable environment before, during, and after the polls.
Opposition People's Progressive Party Civic (PPP/C) Presidential Candidate, Irfaan Ali, in brief remarks to the gathering following the signing of the agreement, expressed confidence that the code of conduct facilitated by the Guyana Elections Commission (GECOM) would not only help to secure "free and fair elections" but an "elections that is free from fear".
Head of State, President David Granger, who leads the list on behalf of coalition A Partnership for National Unity and Alliance for Change (APNU/AFC) congratulated the Commission for document and committed to abiding by its provisions.
Representatives of A New and United Guyana (ANUG), The Citizens Initiative (TCI), Change Guyana, the Liberty and Justice Party (LJP), the Peoples' Republic Party (PRP), the New Movement Party and the United Republican Party were all on hand to place their signatures to the non-legally binding document and expressed similar sentiments to that of the leaders of the two larger behemoths in the race.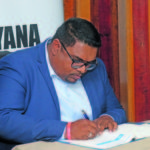 At the Commission's High Street, Kingston Office, the activity was held in the presence of GECOM Chairman, Retired Justice Claudette Singh, Chief Elections Officer Keith Lowenfield in addition to several of the party's commissioners and overseas elections observers.
Justice Singh, in introducing the documents for the party representatives, reminded that the exercise was meant to develop the ethical principles that would guide the political leaders and their supporters during the elections' season.
She did use the occasion to point out that while some of the political parties were absent from the event, this was not their fault since the Commission had been late in sending out the invitations for the activity.
"I would urge all parties to adopt a responsible approach" and to refrain from hate speeches, incitement and provocation, the GECOM Chair urged.