Attempts to undermine democracy
The People's Progressive Party/Civic (PPP/C) Administration will be launching a forensic review into the events that unfolded after the March 2 General and Regional Elections and holding persons accountable for attempting to subvert democracy in Guyana over the past five months.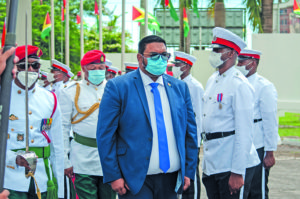 This was revealed by President Dr Irfaan Ali on Saturday during his maiden address as Head of State to the nation at his inauguration ceremony held at the National Cultural Centre (NCC).
Ali said that his Government has an obligation to the nation and to themselves to ensure that no other generation of Guyanese is subjected to such unlawful behaviour that has transpired over the past five months when the country was embroiled in a political and electoral impasse.
"All of us are painfully aware of the trauma and anguish that our people endured over the past five months as vigorous attempts were made to destroy our democratic credentials, and deny the will of the electorate… Therefore, a review of events – related to the electoral process over the last five months – will begin shortly in order to determine, forensically, exactly what transpired, and to hold accountable any persons who sought to pervert and corrupt the system," the Head of State announced.
Questioned about this, Attorney General and Legal Affairs Minister Anil Nandlall subsequently told reporters on the sidelines of the inauguration ceremony that they are awaiting certain eventualities before determining a way forward regarding this forensic review. This "eventualities" include a possible election petition that the A Partnership for National Unity/Alliance For Change (APNU/AFC) coalition has indicated it will be filing to challenge the elections outcome.
According to Nandlall, if a petition is indeed filed then he will have to move in a different direction from what is currently planned.
Nevertheless, he explained that there are several options available to the PPP/C Administration to pursue the forensic review – a Commission of Inquiry (CoI), a forensic and/or a "deep probing police" investigation.
He said a decision regarding the way forward is expected to be made shortly on the forensic review, which he said will examine the actions of persons within the electoral process.
"The people of Guyana suffered greatly. The State of Guyana was threatened and it's the duty of an elected Government to probe into this national tragedy so that issues that are important must be made public so that the people of Guyana understand what transpired, and more importantly, to prepare against the repeat of this horrific tragedy," the Attorney General asserted.
Protracted electoral process
The protracted electoral process, since the March 2 polls, has been marred by a series of litigations and a National Recount had to be conducted to ascertain the valid votes cast. The results from the 33-day exercise showed the PPP/C with a landslide victory, having obtained 233,336 votes while its main political rival, the APNU/AFC obtained 217,920 votes – a difference of 15,416 votes.
The recount was certified by a special team of scrutineers from the Caribbean Community (Caricom) which said in its report to the Guyana Elections Commission that, "Despite our concerns, nothing that we witnessed, warrants a challenge to the inescapable conclusion that the recount results are acceptable and should constitute the basis of the declaration of the results, of the March 02, 2020 elections. Any aggrieved political party has been afforded the right to seek redress before the courts in an elections petition."
But despite former President and Leader of the APNU/AFC, David Granger, having deemed the Caricom team the "most legitimate interlocutor" at the time, his party refused to accept the recount results and filed two sets of legal proceedings.
Through its supporter, Eslyn David, the coalition challenged the validity of the recount results and this was thrown out by both the High Court and the Caribbean Court of Justice (CCJ) – Guyana's apex court.
In fact, the CCJ had ruled that GECOM must use the results from the National Recount to declare a winner of the March 2 elections. But Chief Elections Officer, Keith Lowenfield, had consistently failed to comply with such directions from the GECOM Chair, Retired Justice Claudette Singh, and instead submitted his elections report using fraudulent figures including those from embattled Region Four Returning Officer (RO) Clairmont Mingo, who was found to have heavily inflated the votes from Guyana's largest voting district in favour of the coalition – an event which initiated the recount in the first place.
The process was then dragged through the courts again – this time by coalition supporter Misegna Jones, who was seeking to block the Elections Commission from using the recount results to make a declaration and use the ROs' declarations instead. This litigation was again thrown out by both the High and Appeal Courts of Guyana, which ruled that the ROs' declarations were taken over by the recount exercise. This paved the way for GECOM to declare the elections results using the recount figures which was done on August 2 – exactly five months after Guyanese went to the polls.
Nevertheless, this move by the newly elected Government to probe the post-election events comes on the heels of the United States already issuing visa sanctions against officials here who were found to be responsible for undermining Guyana's democracy. The United Kingdom had subsequently announced that it is also started to put systems in place for "consequences" against such individuals.
Meanwhile, following last weekend's declaration and swearing-in of the President and Government, calls have been mounting for Guyana to undergo critical constitutional and electoral impasse.
Against this backdrop, President Ali, during his speech on Saturday, said his Administration will pursue the necessary reforms to make Guyana's democracy stronger and its electoral process more transparent.
"In our manifesto, we pledged to pursue inclusionary constitutional governance. I intend to see that pledge implemented. To do so will require certain constitutional reforms which we will be formulated in consultation with the people. We will conduct a national conversation in which all ideas will contend, and all voices will be heard… We will pursue the necessary reforms to make our democracy stronger and our electoral process more transparent," the Head of State declared.
In its manifesto, the PPP/C noted it is important that the people participate in something as critical as revising the supreme law.
Under the previous coalition Government, the constitutional reform process had hit a brick wall and was stuck before a parliamentary committee. (G8)