Bulah London, 41, of Eccles Housing Scheme, East Bank Demerara, who was busted with approximately $37 million worth of cannabis during a Customs Anti-Narcotics Unit (CANU) operation last week was on Monday granted bail in the sum of $200,000.
She appeared before Principal Magistrate Judy Latchman at the Diamond Magistrates' Court where the charge was read to her which stated that on January 11, 2023, she had 121.831 kg of cannabis on her premises for the purpose of trafficking.
Bail was granted after a medical report was presented to the court to prove that she is pregnant.
It was reported that on the day in question, CANU officers conducting an operation in the vicinity of Mandela Avenue, Georgetown, on Wednesday, January 11, intercepted a motor vehicle with one occupant.
"A subsequent search of the motor vehicle revealed several parcels of suspected cannabis," CANU said in a release.
Further investigations led to the suspect being escorted to a premises at Eccles Housing Scheme, East Bank Demerara, where a search conducted on the property in the presence of the suspect and the owner unearthed several parcels containing ganja which were concealed in plastic barrels.
Subsequently, Sean Thomas, also called "Yankee", 43, of William Street, Kitty, Georgetown, and London were arrested and taken to CANU Headquarters where the narcotics were weighed and amounted to 123.85kg with a street value of approximately $37 million.
However, Thomas appeared before the said Magistrate on Friday at the Diamond Magistrates' Court where he pleaded not guilty to trafficking in narcotics and was remanded to prison until March 14, 2023.
Earlier in the month, CANU had reported seizing a whopping $1.1 billion worth of narcotics, which amounted to 3403 kilograms, for 2022.
By type, the seized narcotics comprised 121.31kg cocaine; 3280.25kg ganja; 818.7 grams ecstasy; 302.6 grams of methamphetamine, and 1kg cannabis seeds.
According to statistics provided by CANU, these seizures were made in Regions Four, Six, Nine, Three, and 10, with Region Four accounting for the largest seizure of narcotics.
In Region Four, 104.49kg cocaine, 410.12kg cannabis, 302.6g methamphetamine, 366g ecstasy, and 1kg of cannabis seeds were confiscated. In Region Six, 50g of cocaine, 2845.52kg of cannabis, and 452.7g of ecstasy were seized; while in Region Nine, 22g of cocaine and 4.81 kg of cannabis were seized. 16.74kg of cocaine and 118g of cannabis were seized in Region Three, while 19.67kg of cannabis was confiscated in Region 10.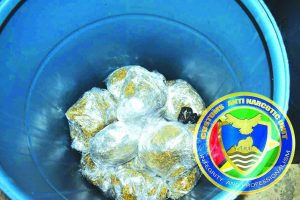 With respect to cases and convictions, CANU reported that for 2022, from the 115 cases that were made out for narco-trafficking, 42 convictions were secured. This also showed an increase from 2021, when 75 cases were made out and 24 convictions were secured.
Of the 115 cases made out in 2022, 80 were for possession of cannabis, 29 were for possession of cocaine, four were for possession of ecstasy, and two were for possession of methamphetamine.