– $120M special needs centre for all regions
With the aim of bringing relief to and assisting all groups of people in Guyana, President Dr Irfaan Ali on Friday announced a one-off cash grant of $100,000 for every child living with a disability.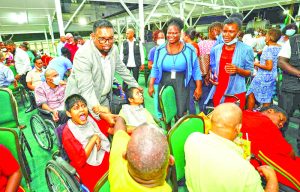 He made this disclosure during an engagement at State House, where 150 children with disabilities and another 100 adult persons with disabilities (PWD) were in attendance along with their caregivers. He was accompanied by First Lady Arya Ali and Human Services and Social Security Minister, Dr Vindhya Persaud.
President Ali explained that his Administration is cognisant of the hardships that parents and guardians of persons with disabilities, especially children, face. These, he noted, would have been exacerbated by the COVID-19 pandemic and other global shocks that have been having a ripple effect on the rising cost of living.
As such, he said that they wanted to support these persons, as the Government has been doing with other groups across the country.
"With the increases of gas prices that are bringing tremendous hardship globally, we have been supporting every single group… and today, we want to give every single child with a disability a cash grant of $100,000 this year," he declared.
The Head of State posited that there is a register of about 1000 to 1200 children with disabilities across the country who will benefit from this one-off grant.
"This will be an added incentive [for families] and we want to do more," the President stated.
According to the Head of State, this is part of an aggressive plan being undertaken by the Government to benefit persons with disabilities across the country. That plan also includes the establishment of modern centres in all 10 administrative regions that will benefit all ages of PWDs including classroom facilities for children.
"Part of the whole development process is not only to create these classrooms and these safe zones and safe areas for the children, which we'll commence investment on in this year but more importantly, is us trying to trying to build a national environment in which the needs of every single person is taken into consideration."
"We at the level of the Government are committed to the building of these centres… And whilst we're doing this building, we are working on the design with the Ministry of Human Services and Social Security of the classroom that we want to create in every single region," he stated.
These centres, which will be built at $120 million each, were designed in collaboration with the Disability Commission. It will feature amenities such as a boardroom, five primary workstations, a retail area, a cafeteria, a therapy room and three dedicated office spaces. The Government will also be looking to add night care centres for children with disabilities whose parents have to work late.
These facilities will cost approximately $120 million each. The procurement process for potential contractors to construct these centres will commence soon.
Friday's announcement of the one-off cash grant and the centres in every region comes on the heels of First Lady Arya Ali raising over $13 million through a fundraiser to establish a business centre for Persons with Disabilities.
Nevertheless, President Ali on Friday told the gathering that these initiatives are part of the Government's agenda to ensure all of Guyana moves forward under his "One Guyana" initiative. He said the Government is also working on other special initiatives targeting this vulnerable group.
However, he noted that in order to bring benefits to persons with disabilities, there needs to be a structured way of implementing these initiatives. As such, he said a register will be created so there can be an accurate count of this group.
Meanwhile, during the engagement on Friday, the Head of State listened to the concerns and complaints of persons such as parents who care for children and adults with disabilities.
Among some of the issues raised were the lack of transportation to and from schools and centres; difficulties accessing public assistance and the training of more teachers for children with disabilities.
These issues were addressed on the spot. President Ali announced that for the seven current special needs institutions across the country, the Government will make funds available to ensure each has at least one vehicle to transport the children.
He also committed to working with the Cyril Potter Centre for Education (CPCE) and the University of Guyana to create special programmes that will see teachers receiving special needs training.
Regarding the access to public assistance, President Ali said that when the registry is created, all children with disabilities will automatically be qualified for that funding which will bring an end to the tedious task of parents and guardians having to verify this through the public system, of which there was a barrage of complaints against public officers.