Covid-19 vaccines
…urges citizens not to fall prey to "political selfishness"
…says batch number can be matched to manufacturer
The legitimacy of the Sputnik V vaccines currently used in Guyana can be authenticated using the batch number to correspond with that of the manufacturer's data, thereby quashing any conclusion as to whether it is fake.
President Dr Irfaan Ali took this position on Thursday amid a false narrative that was drawn by Opposition Leader Joseph Harmon that questioned the Sputnik doses.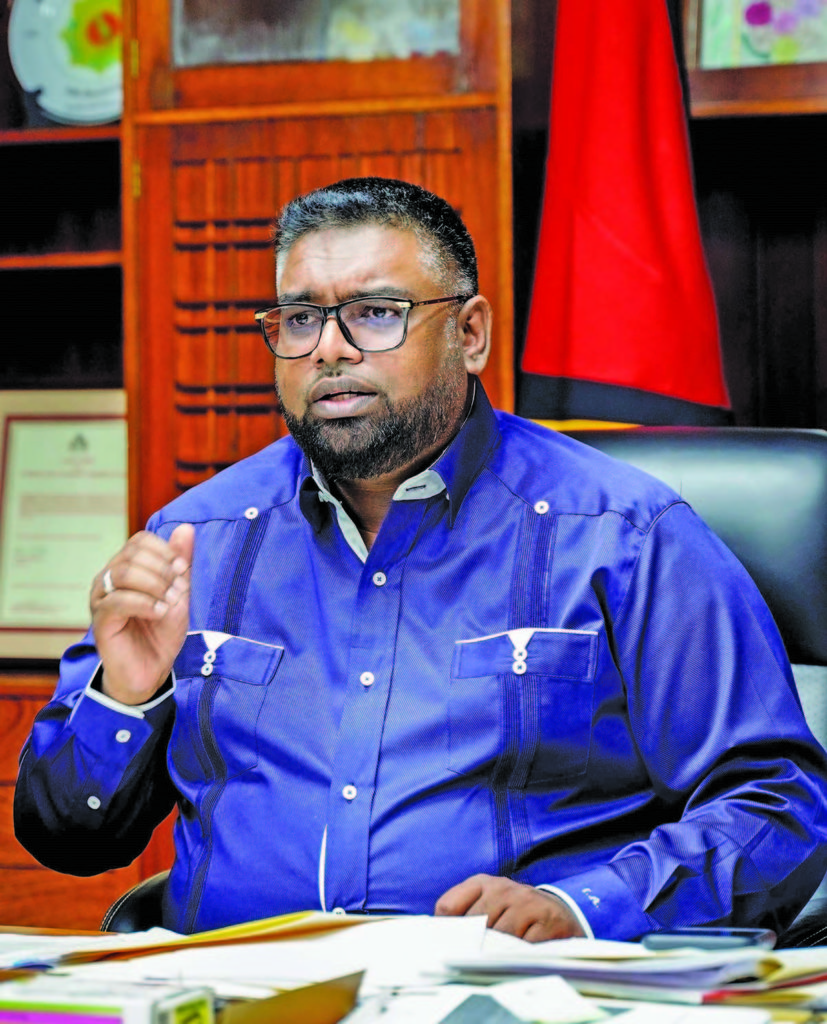 In fact, the Head of State cautioned the population to beware of actions that drive 'political selfishness'.
In a recorded message, he expressed, "We have tried every single measure, and for Mr Harmon to try to discredit these efforts, for Mr Harmon to now try to dissuade Guyanese at this important public health juncture of our country, is reckless and shameful.
"Let me also say that every single shipment of Sputnik comes with the batch number…Before it is administered, it has to comply fully with the regulatory approval system.
On the vaccination card itself, there is batch number that can be matched back to the manufacturer's data."
Do not fall prey
The Head of State added, "I implore Guyanese not to fall prey to the political selfishness of Harmon, not to fall prey to the shameful recklessness and self-serving interest of Harmon…He is doing this at a time when he himself took Sputnik. This level of irresponsibility, this level of selfishness, is beyond anything that a leader or someone who has pride in himself with the values of leadership can demonstrate."
President Ali contended that the Opposition Leader's remarks were not in the interest of the Guyanese people, and come at a time when Government is exploring all measures necessary to vaccinate the entire adult population.
"I'm sure if one were to examine the statement by Mr Harmon in relation to the Sputnik vaccines, dissuading Guyanese from taking the Sputnik vaccines, you would find it to be self-serving, shamefully reckless, and against the interest of Guyana and Guyanese. This is a man who shamefully tried to steal an election a few months ago. This is a man who himself took the Sputnik vaccine. There is a limit to one's selfishness. In this case, the limit must be to issue a statement that put the lives of Guyanese families and communities at risk."
Negotiations, he signalled, have been ongoing with several countries and manufacturers to make COVID-19 vaccines accessible. The President assured this is of utmost importance, in order to bring normalcy back to the country and livelihoods.
"Every single manufacturer, developer, country – whether it was for Pfizer, Moderna, Johnson & Johnson, AstraZeneca, Sputnik – we tried…We tried diplomatic channels. We tried every single thing, and we continue to try every single day. We have requests with every single developer and manufacturer…I made it very clear to the Guyanese people because there is no cost to protecting the lives of Guyanese. That is the only interest of the Government. That is my only interest. Let me assure Guyanese that more than 74 countries around the world are using Sputnik. The clinical data for Sputnik is already with the EU and WHO approving authorities," Ali stressed.
Sufficient supplies
To ensure sufficient supplies, Government has held bilateral discussions with countries, namely India, China, Russia, the US, the EU, Kuwait and the UAE. In addition, Guyana had bilateral talks with manufacturers of AstraZeneca, Pfizer, Moderna, Johnson and Johnson, SinoPharm, Covaxin, Russian Direct Investment Fund. There were discussions with several multilateral organisations, including the Organization of the Islamic States, the African Union/Caricom Initiative and COVAX.
So far, Guyana has been able to secure 62,400 doses of Astra Zeneca vaccine from COVAX, with more to arrive until 20 per cent of the population is covered. There were donations of 3,000 doses of AstraZeneca shots from Barbados, 20,000 Sinopharm doses from China, and another 80,000 doses of the AstraZeneca vaccine from India.
Government has procured 400,000 doses of Sputnik V vaccine from Dubai. Some 305,000 doses of this have so far been delivered, and the additional 95,000 are expected to arrive soon. Another 100,000 doses of Sinopharm vaccines from China will arrive within the next two weeks.
Through an African Union/Caricom Agreement, Guyana is procuring 148,000 doses of vaccines – a portion of which would include Johnson and Johnson single-dose vaccines. (G12)