…says Guyana will be "no puppet to foreign power"
Commander-in-Chief of the Armed Forces, President Dr. Irfaan Ali, on Thursday charged ranks of the Guyana Defence Force (GDF) to deter all external threats that may be imminent, in light of recent incursions by foreign powers on the country's Exclusive Economic Zone.
He was at the time giving the feature address at the Force's Annual Conference at the National Cultural Centre, which was also attended by Prime Minister Brigadier Mark Phillips and other dignitaries.
The President highlighted that while Guyana seeks peaceful relations with its neighbours, it will not tolerate any action which threatens national security and sovereignty.
"We are keen on promoting good neighbourly relations. Guyana has no expansionist ambition. We covet no one's territory or resources. Our Defence Policy will be guided by our desire for peace and in pursuit of protecting our national patrimony, and deterring external threats and acts of aggression. While we are a peaceful state, no one should underestimate our resolve at protecting our territory and safeguarding our national sovereignty. Let not our peaceful intent be mistaken for weakness."
His comments come amid recent reports that the Venezuelan military had infiltrated Guyana's Exclusive Economic Zone and detained several Guyanese fishermen for over two weeks.
Meanwhile President Ali spoke on the transformation which will take place in order to build a smarter Defence Force. These plans will be guided by a National Defence Policy and supported by four different pillars.
"A stronger Force does not necessarily mean a larger force. We're building a smarter defence force, with emphasis on increased use of technology and intelligence, so that we can know what is occurring on our borders and within our territorial sea and Exclusive Economic Zone. We'll be enhancing the capabilities of the Force to respond to threats to our territory and our people, including responses to emergencies and natural disasters," the Head of State posited.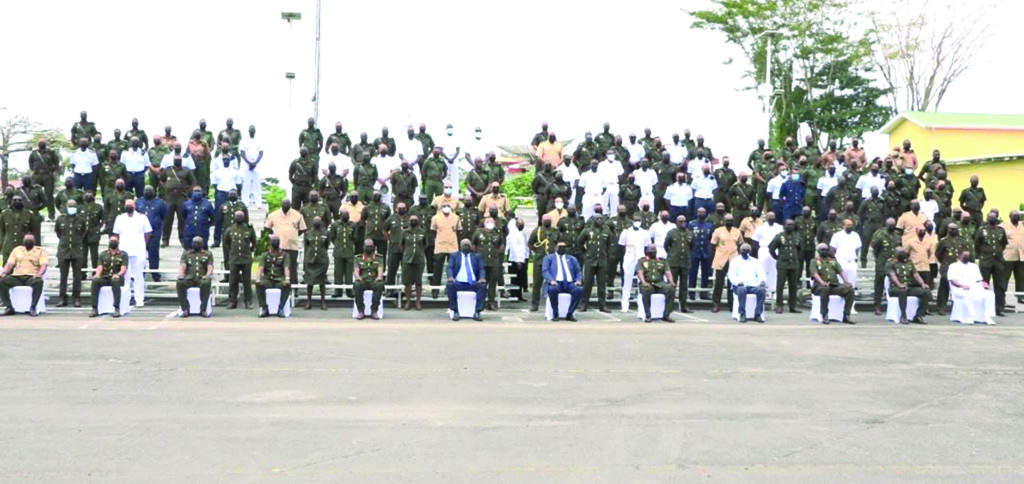 Aircraft and marine vessels will be sourced for the army, allowing for increased surveillance over the local territory. Notwithstanding, policies will also take shape to better the lives of these ranks, thereby enabling a highly-motivated defence mechanism.
"Whenever ranks have to worry about their wellbeing and that of their families, it subtracts from the dedication to the job. The country's Defence Policy is therefore aimed at improving the well-being of the members of the Force and their loved ones. I have already committed to providing more scholarships and training opportunities for ranks. I have also said that we will launch a special housing programme for soldiers," he outlined.
Protecting EEZ
Meanwhile, Chief-of-Staff, Brigadier Godfrey Bess, gave his strong assurances that all resources necessary would be deployed to protect Guyana's Exclusive Economic Zone (EEZ). He positioned that external threats have occurred in 'worrisome' magnitude. According to him, sovereign rights must be protected 'at all cost'.
"We must be cognisant that the possibility of internal threats continues to exist while external threats have taken on what could be described as worrisome proportions, where physical incursions have occurred in our Exclusive Economic Zone to the extent that Guyanese fisherfolks have been illegal intercepted…Guyana's entire Exclusive Economic Zone must be protected at all cost."
While Guyana has pledged to use diplomacy as its first line of defence, he noted that the Force would seek to enhance its water, air and land patrols.
"We, as a sovereign country, are at this time engaged in several critical situations, which could have major consequences, depending on the approach adopted. We are acutely aware of the number of hurdles we face, and are likely to face in the near future, with respect to our peaceful existence with our continental neighbours," Bess underscored.
Moving into challenges, he highlighted a few areas which pose new threats to the country. Bess said the Force must be better equipped to detect and mitigate these security issues.
"We also have significant challenges with new and emerging transnational threats as we combat global narcotrafficking, trafficking in persons, continuous illegal crossing of our borders, migration crisis, and we've also seen the discovery of illegal airstrips in our territory." (Rupa Seenaraine)