Recognising the Private Sector as the creator of wealth, the Guyana Government has inked with the OPEC Fund for International Development (OFID) an agreement that would see local businesses benefiting from new avenues for financing and investment.
The Agreement for Encouragement and Protection of Investment was on Thursday signed in Vienna, Austria by Finance Minister Winston Jordan and OFID Director-General Suleiman J Al-Herbish. It is the first such agreement with a multilateral partner, and sets in train a framework for the start of Private Sector operations in Guyana.
OFID's Private Sector facility supports the Private Sector in developing countries through loans to micro, small and medium size enterprises, as well as directly to specific projects. As a pre-condition to such Private Sector investments, OFID requires the signature of a framework agreement with the country concerned, for the encouragement and protection of investment. The agreement accords OFID the same privileges as those normally granted to international developmental institutions.
The signing of this agreement comes at a time when a number of other initiatives are being implemented by Government to help drive Private Sector growth, including the design of a fiscal regime and a fiscal sustainability framework to address the management of natural resources' wealth, development of a local content policy, and development of a time-lined work plan on what the Private Sector needs to do to prepare for oil and thereafter.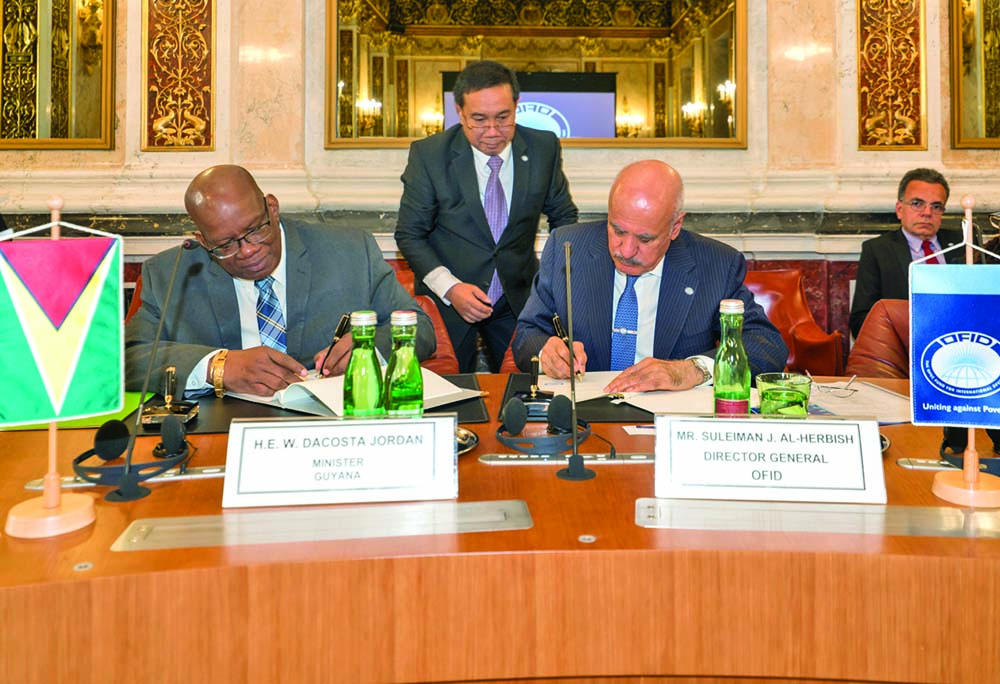 Additionally, building on the wide ranging concessions granted by the previous Government – the PPP/C – the Coalition has introduced several legislative and operational changes in support of the manufacturing industry.
More recently, the Government announced the first Round Table Meeting with the GMSA, scheduled for July 28th. This Round Table meeting aims for a more structured dialogue and effective engagement with key players in the sector.
OFID is the intergovernmental development finance institution established in 1976 by the Member States of the Organisation of Petroleum Exporting Countries (OPEC), and is bound in "the natural solidarity which unites OPEC countries with other developing countries in their struggle to overcome underdevelopment".
OFID has 13 member countries: Algeria, Ecuador, Gabon, Indonesia, Iran, Iraq, Nigeria, Libya, Kuwait, Qatar, Saudi Arabia, the United Arab Emirates, and Venezuela.
Resources for the Fund come from voluntary contributions made by members, and from the various operations of the fund.
Between 1976 and this present time, OFID has committed more than US$55 million to Guyana through its public sector operations. Much of this amount was provided as debt relief – some within the framework of the Enhanced Heavily Indebted Poor Countries Initiative – while more than US$29 million were earmarked for Guyana's energy, agriculture and financial sectors.