…says unverified objections causing delays, mischief
The Private Sector Commission (PSC) has urged the Guyana Elections Commission (GECOM) to reconsider broadcasting the litany of unsubstantiated complaints being brought up by the incumbent party during the recount.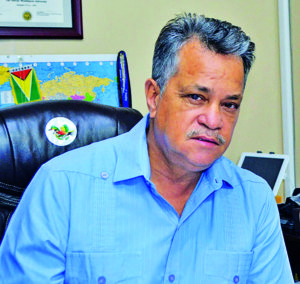 In a letter to GECOM on Monday, PSC Chairman, retired Captain Gerry Gouveia complained that reading these complaints is a time-consuming process and moreover, A Partnership for National Unity/Alliance For Change (APNU/AFC) does not present any evidence when making them.
"We have observed that the tabling of these lengthy, unverified allegations is the cause of inordinate and unjustified delays of the recount," Gouveia wrote.
"We wish to point out that the election process on March 2, 2020, was observed and confirmed by both local and international observers as entirely credible and most recently, in an official broadcast to the nation by President David Granger."
Among the claims that APNU/AFC has made is that the dead and migrated voted during the election. This is despite the heavy presence of international and local observers at the Polling Stations. In addition, both PPP and APNU/AFC agents were present in stations across the country.
"It is our considered view that it is extremely dangerous to be publicising unproven allegations for public consumption. We consider it most unfortunate that the observation reports are being used to disseminate unverified information and urge that you instruct that the reports not be broadcast unless or until it's contents are verified."
"We further urge that GECOM respond appropriately, promptly and regularly to these allegations made against GECOM's conduct of the elections, which are being placed before the media as a matter of fact," Gouveia stated, going on to urge GECOM to make a concerted effort to clear the tabulation backlog.
Stakeholders, most notably the People's Progressive Party (PPP) have long lamented the slow pace of the recount. Among the issues they have cited as contributing to this slow pace, is the reading and streaming of the observation report.
They have contended that the broadcast of an observation report was never contemplated in the recount order. Not only would the reports be verbally read out, GECOM has said, but sign language interpreters would be used for good measure.
PPP leaders, headed by Presidential Candidate, Dr Irfaan Ali, previously met with the GECOM Chairperson and requested a review of that decision. Ali, on Saturday, lamented the fact that the pace at which the exercise is being conducted is very slow.
He noted that considering the 25 days scheduled, which was outlined in the gazetted order, the counting agents should be doing about 94 boxes per day. However, the pace of the count is moving at about 40 boxes per day.
He added that further analysis has shown that over four hours is deducted from the actual counting time when one considers all the administrative issues that are taking place simultaneously.