Guyanese badminton sensation Narayan Ramdhani continues to make the most of his time in Canada, winning yet another tournament up North.
The 20-year-old started his 2019 season in the best way possible by securing the top spot in the Alberta Colleges Athletic Conference (ACAC) Inter College/ University Badminton Tournament and finishing in the top four of the men's doubles category.
This is the second ACAC tournament that Narayan has won, the first being held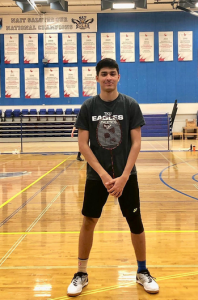 last year at Kings University in Canada.
Similar to the first tournament, the four University teams participating were the King's University-EAGLES, Olds College-BRONCOS, Concordia University of Edmonton-THUNDER, and Northern Alberta Institute of Technology (NAIT) –OOKS.
For the men's doubles division, Ramdhani teamed up with fellow King's Eagles player Joel Simrose to face their higher seeded opponents. After making it past the preliminaries, the Guyanese and his partner took on the pair of Emil John Aquino and Reece Taubert, both of Olds. They secured an easy victory 21-10, 21-12 to advance to the semifinal. There the duo's luck changed as they found themselves pitted against the Number one seeded pair, Nicolas Pittman and Desmond Wang of Concordia. The top ranked pair was too much for the Guyanese and his partner, they lost 21-8, 21-10.
Their misfortune continued into the third place playoff, resulting in Ramdhani having to settle for the fourth place spot. Coming up against Nait's John Li and Tyler Walsh, the duo lost 21-14, 21-10.
Narayan Ramdhani, however, had a better single's tournament, finding himself having to prove his dominance after being seeded as the Number 1 single's player.
In the quarter finals, Ramdhani was pitted against Nait's Taab Khwaja, but took an easy win in two sets: 21-3, 21-10. For the semi-final the Guyanese found himself coming up against his double's partner Joel Simrose, and made light work of his opponent in another convincing victory, 21-9, 21-6.
For the final encounter of the tournament, Ramdhani was made to battle with Number two seeded player Tyler Walsh. The Guyanese player emerged victorious once again with a 21-14, 21-9 win.
The tournament circuit will continue with the third ACAC competition on February 3 at the Olds College, this will be followed by the ACAC Championships February 17 at the Concordia University.
The Alberta Colleges Athletic Conference (ACAC) is the governing body for collegiate sports in Alberta, Canada. Founded in 1964, as the Western Inter-College Conference, the ACAC is represented by seventeen schools, including one in Saskatchewan that competes in ten sports.
The ACAC is a member of the Canadian Colleges Athletic Association, and provincial champions compete for national collegiate titles.