Regional 4-Day Tournament 2018/2019…
– says Brandon Corlette
For some, it may not be a surprise when Guyana Jaguars opening batsman Trevon Griffith is relieved from the starting XI when Chanderpaul Hemraj returns.
The elegant left-handed stroke-maker has played in three rounds of the ongoing Cricket West Indies Regional 4-Day tournament, and has failed to score more than 23 runs in a single innings.
His scores in those three matches this season have been as follows: 18, 23, 12, 13*, 14; and 12 in the six innings he opened the batting for the Jaguars.
Trevon Griffith, a 27-year-old opener who came through the ranks, having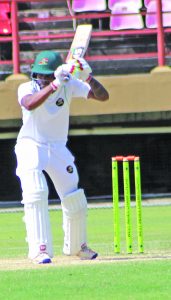 represented West Indies under 19 in the tournament played in New Zealand, is in need of runs at the Regional level. Griffith made his first class debut in February 2012 against Jamaica in a match played at Antigua. He has been in-and-out of the Guyana Jaguars team, and has played First-class cricket for the Jamaica Scorpions franchise.
In his 20-First-class matches, Griffith has 609 runs, with only two half-centuries in 37 innings he batted. He has a poor average of 17.40 in contrast to his 22.18 in the 'List A' format of Regional cricket. The opener, who is arguably the best fielder in the team and is among the fittest players in the Caribbean, brings a lot of value to the team, but his bat is not talking. Griffith possess great reflexes standing in the slip cordons, where he has taken 21 catches.
With the likes of Tagenarine Chanderpaul, and Chanderpaul Hemraj scoring runs for the Guyana Jaguars at the top of the batting order, Griffith is in need of a big innings. Hemraj has an average of 30 in First-class cricket, playing the same amount of matches as Griffith, scoring 1083 runs in exactly 37 innings. Hemraj, who is now a player likely to play test cricket in 2019, has already played One Day International cricket for West Indies and he is now seen as the number one opening batsman for the Guyana Jaguars. Hemraj has four half centuries more than Griffith, 609 more runs; and ironically, the openers played the same amount of matches, batting the same amount of innings, in First-class cricket.
Meanwhile, Tagenarine Chanderpaul has been scoring at a slow rate, but is seen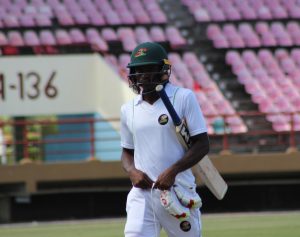 as the number two opener and the first choice opener when Hemraj is unavailable.
Tagenarine Chanderpaul, who has 300 runs in the first four rounds of the 2018-2019 CWI Regional 4-Day season, including a century at Providence in the last round, has a First-class career average of 32.23. Chanderpaul has 1515 runs in 29 First-class matches, inclusive of two centuries and seven half-centuries. Among the Jaguars openers, Chanderpaul has played nine more matches than his fellow openers Hemraj and Griffith, and the selectors will not overlook him, since he has the perfect temperament.
Guyana Jaguars have had a successful Regional 4-Day campaign, but Trevon Griffith's record speaks otherwise. Griffith has played some exquisite shots during his stay at the crease while batting this season, but he usually plays one shot too many, which leads to his downfall. His communication between the wickets has caused him his wicket in recent times, but he is likely to have an opportunity for the Jaguars and he should want to score valuable runs.