2019 New York Business Group under 19 Tournament…
– Sinclair's double century, Anderson's ton lead RHT dominance
The Berbice Cricket Board (BCB) continued its cricket season over the weekend with some exciting cricket matches. In a clash between the New Amsterdam giants Tucber Park and the Young Warriors Cricket Club of Cumberland, East Canje, Tucber Park outplayed Young Warriors to register a seven-wicket victory.
The match was played at the Young Warriors' ground at Cumberland, and Warriors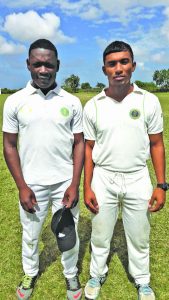 captain Alex Algoo won the toss and opted to bat.
In the other fixture, played at Albion, the Rose Hall Town batsmen enjoyed a runs-fest in defeating Albion 'B' by 433 runs. Junior Sinclair recorded a brilliant 215, while Kevlon Anderson stroked 136.
Young Warriors v Tucber Park
Under beautiful playing conditions in the ancient county, Alex Algoo and Ricardo Ramdehol went out to bat, and encountered some goof bowling from Gevon Schultz and Leon Swammy. Each of these Tucber Park bowlers have represented Guyana at the under 17 level. Schultz bowled with control, while Swammy was hitting the pitch hard. Young Warriors were blown away for 60 in 18.3 overs, as their batsmen had a horrific outing, with extras contributing to the total.
Gevon Schultz had 2-10; Leon Swammy picked up 2-5; Delshawn McDonald 2-8; leg spinner Winslow Roberts had 2-10, and left arm pacer Isiah Anderson had 1-8 in a dominant bowling performance.
In reply, Tucber Park raced away, reaching the target in 17.3 overs to finish on 62-3. Berbice under 19 batsman, Tucber Park captain Garfield Benjamin, top scored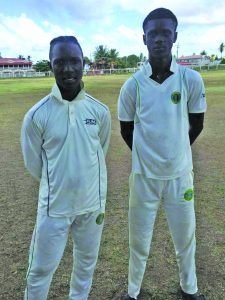 with an unbeaten 25, and Nicholas Veren scored 14 not out to see Tucber Park register a seven wicket win in their unbeaten 2019, under 19 campaign.
Albion 'B' v Rose Hall Town
In the other match, played besides the Albion Estate Housing Scheme, Rose Hall Town took first strike and amassed 518-7 in 50 overs. Guyana youth players Kevlon Anderson and Junior Sinclair opened the batting, adding 300 runs to frustrate the Albion 'B' bowlers. Guyana under 15 batsman Jaron Goopilal scored 62 as Rose Hall Town put on a dominant batting display. In reply, Albion 'B' were bundled out for 85, with Junior Sinclair returning with the ball to grab four wickets, while fast bowler Joshua Wilson and off-spinner Jaron Goopilal had two wickets each. (Brandon Corlette)