The Guyana Football Federation (GFF) on Monday last presented footballs to aid the execution of a small-goal competition slated for the University of Guyana (UG).
The initiative, organised by Jafar Gibbons, will kick off on February 2 at the Turkeyen campus, and is designed to bolster students' interaction across faculty — which is expected once students are given the opportunity to create their own teams.
Speaking with Guyana Times Sport about ongoing preparations for the tournament. Gibbons said, "To answer the question, approximately 11 teams have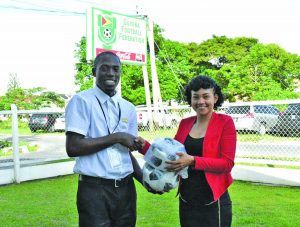 registered so far. I am not sure, because my phone has been down for a few days and I need that, since the guys are registering via the phone. Also, the buzz is crazy so far, everybody is hyped. Campus hasn't restarted as yet, but everybody is talking about the tournament and they like the vibe it creates, I am getting a lot of support, from fans, the participants and also from corporate Guyana. All the necessary paper work and approval have been completed, so hopefully, on the day of the tournament, it should have a smooth flow of events".
Gibbons further explained, "What the tournament is designed to do is allow players to create their own team, regardless of which faculty they're from…so then you're not only having interactions among teammates, but as a tournament (it will enable) students (to) cross paths, and what better way to foster interaction other than through sports?"
The tournament will be played for one day only, providing that there is a maximum of eight registered teams. However, if there are more than 16 teams contesting, the games shall be played for two weeks. The matches will be round-robin style, followed by the knockout stage, which will be three games – two semi-finals and the final. The games will be played in two five-minute halves.
Some of the other entities on board with this event are the Kashif and Shanghai Organisation, Signature Move, New Era Entertainment, Michael Singh, C&L Construction Inc. and Robbie Rambarran.
Gibbons also stated that he is once again grateful to GFF President Wayne Forde and his staff for their continued support towards football development throughout Guyana.