…22 petty offenders granted bail
BY ASHRAF DABIE & RAMONA LUTHI
In light of the decision to relocate the inmates previously held at the now gutted Camp Street Prison, ranks attached to the Lusignan penitentiary were on Monday forced to open warning fire as a detainee attempted to escape the East Coast Demerara institution.
This was due to a commotion which continued following the transfer of the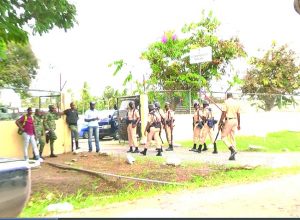 hundreds of accused and convicted criminal offenders to the unfavourable detention centre in Lusignan.
When Guyana Times visited the prison around midday on Monday, the incident had just broken out during which one of the inmates attempted to scale the high concrete fence that surrounded the facility. Based on information reaching this publication, his efforts were foiled by the ranks firing warning shots so as to avert his escape.
Meanwhile, as a result of the incident, several measures were subsequently put in place to ensure that there was no reoccurrence. This included efforts to better cater for the detainees such as the setting up of tents, providing water and installing portable disposal systems.
While these reinforcements were being transported to the prison, disgruntled family members of the imprisoned individuals began gathering outside of the facility, appealing for information regarding the wellbeing of their loved ones.
The relatives were calling for information regarding the safety and whereabouts of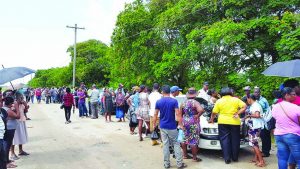 individual prisoners, highlighting that they are still in the dark as it relates to their family members.
Some hours after standing in the blazing sun, several persons began to lash out due to their frustration of not being properly informed.
As such, it was not long after that some were given a chance to send in food for their detained relatives. However, the aggrieved family members were unable to send in water and clothing and still remained unapprised of the details.
"My brother in there naked. He ain't got no clothes… everything bun up. Why we can't send in clothes and water?" an irate woman was heard questioning the officers.
Furthermore, another woman relayed that ever since new broke of the fire, she has not been able to eat. Even with the passing of hours since the incident at the Camp Street Prison, she continues to search assiduously for information on her brother, all of which has been to no avail.
Similar sentiments were expressed by the majority of those who were among the gathering with the hostile atmosphere being lifted only with the news of possible bail for some.
Petty offenders granted bail
In an announcement on Monday, C Division (East Coast Demerara) Commander Calvin Brutus confirmed that Magistrates will preside over hearings at the Lusignan penitentiary where many prisoners are being held under tents.
These revelations followed a meeting between the Director of Public Prosecutions, Shalimar Ali-Hack and acting Chief Justice Roxanne George at the High Court on Monday morning. Guyana Times understands that 22 petty offenders were released on bail.
Additionally, this action was indicated by Public Security Minister Khemraj Ramjattan who pointed out during a press briefing on Sunday, that offenders who would have committed "petty" crime would be granted reduced bail.
"We will have to do a couple of things that might be extraordinary in the circumstances that will see to it at least we make as much space as possible," relayed the Minister amid the chaos.
Ramjattan went on to say that, "A lot of them are there for possession of narcotics and trafficking of narcotics and they have served some time and they were of good behaviour." As such, he noted that those detainees will therefore qualify for bail at a reduced amount.
Stemming from that, several Magistrates were on Monday afternoon seen entering the premises, as media operatives and family members of the prisoners were staked out outside the Lusignan Prison. Among the judicial team was Magistrate Peter Hugh who presided over hearings which allowed for the release of a number of inmates who were convicted of minor, non-violent offences, as well as the granting of self-bail for several on remand for non-violent, minor offences.
This granting of bail to a number of petty offended is in according with measures to reduce prison overcrowding. This was recommended in a $13 million Camp Street prison inquiry following the deaths of 17 inmates in a fire last year.
Moreover, of the 1000-plus detainees previously held at the Camp Street Prison, about 100 of the inmates were transferred to the Timehri Prison, while approximately 900 remained in Lusignan. Despite indications, reports are yet to be made of the prisoners being sent to the Mazaruni Prison.
Meanwhile, the Joint Services is continuing its reinforcement efforts to secure the Lusignan institution, now that the Camp Street Prison was almost entirely destroyed in Sunday's prison break fire.