Mario Heywood, the 42-year-old man who repeatedly raped a nine-year-old girl who was left in his care, has been jailed for 17 years by Demerara Sexual Offences Court Judge Sandil Kissoon.
Following deliberations last month, a jury panel returned majority guilty verdicts in condemnation of Heywood, called "Ratty", who was indicted for three counts of the offence of engaging in sexual penetration of a child under 16 years old.
Heywood, who was represented by attorney Damien Da Silva, raped the child on three separate occasions between October and November 2018.
State Counsels Cecilia Corbin, Caressa Henry and Marisa Edwards, who represented the prosecution, said that after raping the child, Heywood threatened that he would kill her mother if she told anyone about what he had done to her.
At the sentencing hearing of the father of one on Wednesday, a probation officer presented a detailed report on the convict's life, which, inter alia, revealed that he was forced to discontinue pursuing an education due to financial constraints his family was facing.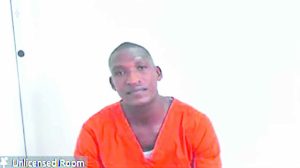 According to the probation officer, residents in Heywood's East Ruimveldt, Georgetown community described him as a "respectable, quiet, and easygoing" man, and as such were surprised at his involvement in the crime.
During an interview with the officer, Heywood insisted that he was innocent, claiming that the allegations against him stemmed from an altercation between the victim's mother and another woman with whom he had shared an intimate relationship.
When asked by Justice Kissoon if he had anything to say before sentence was passed, Heywood, who appeared in court virtually, said: "I'm innocent…I'm here and I can't do anything about it."
The probation officer related that the victim, who is now 13, expressed that after the incident she felt "pain", and that she was fearful to disclose to her mother what had happened to her because of Heywood's threats.
The girl also had suicidal thoughts, the officer informed. As such, she recommended psycho-social support for both the victim and perpetrator.
Asked by the probation officer for a reaction to Heywood's convictions, the victim's mother stated: "When you do the crime, you have to do the time."
Justice Kissoon, in his sentencing remarks, admonished Heywood for abusing his position of trust. The Judge stressed the prevalence of child rape cases in Guyana, alluding to remarks by Caribbean Court of Justice (CCJ) Judge Peter Jamadar, who in 2020 had noted that the alarmingly high statistics relative to sexual offences against children in Guyana are escalating to a crisis.
In sentencing the convict, the Judge, among other things, considered the frequency of such offence, the fact that the victim was only nine, that Heywood used threats to drive fear into the girl, his prior unblemished criminal record, his "favourable" probation report, as well as his capability for rehabilitation for reintegration into society.
In keeping with the objectives of sentencing, as well as the guidance by the CCJ on sentencing in sexual offences matters, Justice Kissoon sentenced Heywood to 15 years in prison on the first count and 17 years on the second and third counts respectively. The three sentences will run concurrently.
It was further ordered that the convict must take part in counselling for sex offenders during his time in jail.