ꟷ lots of incentives up for grabs
By Timothy Jaikarran
In a simple ceremony held on the premises of the FireSide Grill n Chill in Garnett Street, Newtown Kitty, popular sports journalist Rawle Toney launched the 'Rawle Toney 3X3 Classic', a basketball tournament that is scheduled to be hosted on November 9-10.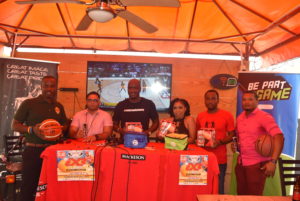 The launching panel consisted of Mackeson Brand Coordinator Keon Persaud, Tournament Organiser Rawle Toney, Rush energy drink Brand Coordinator Fareez Mohamed, and Guyana Amateur Basketball Federation Representative Junior Andrew Hercules.
Addressing those present, Organiser Rawle Toney said, "This is a real honour for me. It is something that I've wanted to do for some time now. With all the sports we have ongoing in Guyana, I feel that basketball has been left out. If you look at the shorter version of every discipline of sport in Guyana, the 'federation' is pushing it; such as T20 cricket. 3×3 basketball is no different, so I capitalised on that and reached out to the sponsors.
"The game is 10 minutes long, and it doesn't take up a lot of time. The support has been overwhelming, as every team is reaching out to me to join the tournament. This tournament is for the basketball players. If you notice, everything goes towards the players, and (there is) something special (reserved) for end game; so every player stands a chance of walking away with something."
Mackeson Brand Coordinator Keon Persaud declared Mackeson proud to be part of the tournament, and added that in 2011 the company had given away one million dollars in a basketball tournament of similar nature.
He said the company would continue to support this venture throughout the year, and even into the future.
Declaring similar sentiments, Rush energy drink Brand Coordinator Fareez Mohamed related that ANSA McAL, under its Rush energy drink brand, is proud to sponsor the event, and has taken note of the tournament's well-organised structure.
Mohamed declared there is room for growth in basketball in Guyana, and Rush energy drink and ANSA McAL would continue to nurture this venture for the future.
GABF Representative Junior Andrew Hercules urged everyone to come on board and support the 'Rawle Toney 3×3 Classic' basketball tournament, since basketball is the world's fastest growing outdoor sport.
"By extension, the Federation would like to commit to a 3-point shootout. The winner of that tournament will earn $25,000 dollars," Hercules said.
Toney has promised to register this tournament on '3x3planet' which can be located on the official FIBA site (https://www.fiba.basketball/3x3planet).
This, in turn, would place the tournament on an international spectrum, and if ever there is need to select players for an international matchup, the 'Rawle Toney 3×3 Classic' can be looked into.
A purse of $300,000 is also up for grabs by the winner of the round-robin/knockout tournament, while the runner-up 'team' will be awarded $100,000 and third-place winner will pocket $50,000. The person deemed the 'Most Valuable Player' (MVP) in the finals would receive one pair of basketball sneakers of their choice.
ANSA McAL, under their Mackeson brand, are the tournament's main sponsors, and will be joined by the Guyana Lottery Company's Let's Bet Sport, 'STUFF', Slingerz Family Entertainment, the National Sports Commission (NSC), and by Trophy Stall.