The Guyana Volleyball Federation (GVF) National Inter-Region Tournament saw participation from six teams, namely from Regions One, Three, Four, Six, Seven and 10, competing in a two-zone tourney over the Independence weekend (May 26-28).
According to the GVF, the availability of the National Gymnasium was a major setback for the execution of the tournament, owing to an Independence table tennis tournament that caused late starts on all three days.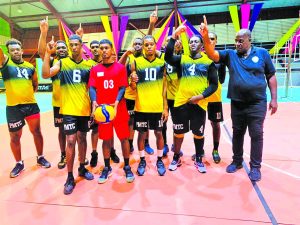 In Zone A, Region Four emerged winners in the three-team round-robin play-off, with Region Three being the runners-up. In Zone B, Region Six were the winners, with Region Seven being the runners-up in their round-robin play-off.
The semi-finals saw Region Four defeating Region Seven 2 sets to 1, with scores reading 19-25, 25-21, 15-7. Likewise, Region Six defeated Region Three, with scores reading 25-10, 27-25, 15-10. Thus, Regions Six and Four were the last two teams standing, to compete in the best-of-five final.
Region Six drew first blood and went on to bring down the curtains with scores of 25-17, 25-23, 22-25 and 29-27.
The victorious Region Six team received the monetary first prize of $100,000, while Region Four received the second-place prize of $50,000. Daniel Joseph of Region Six was adjudged Most Valuable Player (MVP) and received $20,000.
The GVF extended gratitude to the Guyana Defence Force (GDF), Flores Maritime, all officials and the Ministry of Culture, Youth and Sport. According to the Federation, the next upcoming activity is the selection of male and female squads for a border game in Brazil, sometime in August.