There were victories written in the stars for Western Tigers; Guyana Defence Force (GDF) FC; Fruta Conquerors and Guyana Police Force (GPF) FC when the Guyana Football Federation (GFF) lit up its National Training Centre (NTC), at Providence for the second round of the KFC Elite League.
With the installation of the temporary lights at the facility, Western Tigers and Buxton United were the first teams to take to the pitch on Saturday evening.
Buxton took the lead with a 45th+1 minute freekick off the boots of Samuel Johnson. However, a slip-up in the second half saw Buxton conceding an own goal in the 56th minute.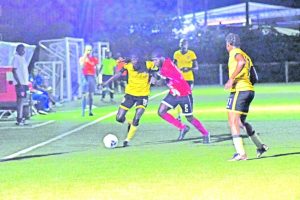 Eusi Phillips later added the cherry on top in the 72nd minute to hand Western Tigers the 2-1 win.
The following game saw GDF thumping Den Amstel FC 4-0. Olvis Mitchell got GDF's adrenaline pumping early with two goals in the seventh and eighth minutes. However, it was only until the second half that the soldiers extended their tally with goals from Stephon McDonald and Ryan Hackett in the 79th and 87th respectively.
Meanwhile, on Sunday, late goals had spectators on the edge of their seats as Fruta Conquerors narrowly got past Ann's Grove FC. After a deadlocked first half, Neron Barrow handed Fruta Conquerors the lead in the 77th minute.
Shemar Beckles equalised for Ann's Grove three minutes later, but in the 86th minute Fruta snatched the lead once again by way of a Samuel Garnett goal.
Police closed the weekend's and Round 2's action with a 7-0 drubbing of Victoria Kings FC in the following game. Nicholas McArthur was the marksman on show, with goals in the 20th, 33rd, 39th and 41st minute. Meanwhile, Ronaldo Dover (18th), Keswin Fraser (57th) and Ravi Coates (84th) all found the back of the net once.
The KFC Elite League will continue with Round 3 this evening (Tuesday, May 30) at the Police Sports Club Ground, Eve Leary, with Western Tigers and Victoria Kings meeting at 19:00h. Den Amstel and Police will then lock horns at 21:00h.
After Round 2, Western Tigers still lead the table, although narrowly, with 6 points and a +11 goal difference. They are followed by Santos, with 6 points and a +10 goal difference. The GPF FC and the GDF FC also have 6 points each with goal differences of +9 and +8 respectively. Two teams in Buxton United FC and Fruta Conquerors sit on 3 points while Den Amstel, Victoria Kings, Ann's Grove and Milerock FC are all yet to pick up points in the KFC-sponsored League.
In addition, Nicholas McArthur has distinguished himself in the 'most goals' category, netting six goals in two games thus far.