Region 9 flood woes
The Regional Chairman of Region Nine (Upper Takutu-Upper Essequibo), Brian Allicock has said the Region has an ongoing battle with drug shortages and he was now worried that they may not have enough to tend to residents who would require treatment following severe flooding in the area.
However, he said Prime Minister Moses Nagamootoo was aware of the shortages and made a commitment to have them rectified.
"We might not have enough medication when the time comes; we never have enough medication to administer to people when they come to the hospitals and health centres and so. The Prime Minister took back these issues with him yesterday (Monday) – of the level of drugs we have in the system, so we can have more replenishment and so that we can address issues as they arrive," Allicock said in a phone interview on Tuesday.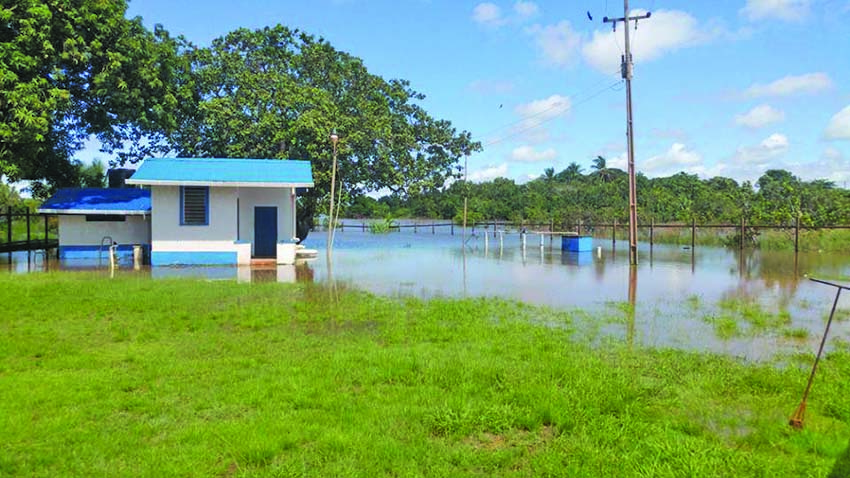 Over the weekend, several communities in the Region were under water owing to heavy rainfall in the areas as well as in neighbouring Brazil. The Takutu and Rupununi Rivers have overtopped their banks, cutting off access from Lethem to several of the remote villages. More than 40 households in Tabatinga, Culvert City, St Ignatius and Lethem had to be evacuated on account of the high water level.
Allicock said he was anticipating several cases of waterborne diseases and other health issues hence his worry about the Region's medical and drug supplies to treat affected residents. He added that they have dispatched teams of health workers to the affected areas to provide education on how to properly treat water and protect against diseases.
"We have a health team and part of the team has gone up North Rupununi to investigate. We have three teams that are doing data collection in the Lethem area. We have our Extension Officers, our Community Development Officer and District Development Officers are assisting us by sending information from the sub-districts," he explained.
Potable water
Guyana Water Inc (GWI) has mobilised efforts to provide potable water to affected residents and the general public in light of the flood situation in the South Rupununi and other parts of Region Nine. These response efforts have been put into operation via the setting-up of water distribution access points at the Tabatinga Pump Station and New Culvert City Pump Station.
The GWI said it was monitoring the quality of water distributed to residents. Water quality testing will be done at each pump station and at strategic points in the distribution network. Testing of private wells will also be facilitated upon request.
According to the Regional Chairman, 39 persons have sought refuge at the shelters set up at the Arapaima Primary School, the Amerindian Hostel and the Culvert City Nursery School. He noted that several of the evacuated families opted to move in with relatives in other unaffected villages and in Brazil as well.
Sub-districts
Given the vastness of Region Nine, data gathering and impact assessments are quite difficult, according to Allicock. He said that the Regional Democratic Council's Regional Emergency Operations Centre has dispatched teams to the affected communities to provide relief.
"In the sub-districts, we did not get any reports as to relocation of people or evacuation, but we are getting reports that the farms are affected. Mainly, most of the farms in the villages are under water and you know cassava don't take too long to spoil," he said.
Allicock said so far they have received no requests for assistance from the sub-districts, but noted that they expected those requests to come pouring in over the coming weeks. He said that the teams dispatched, along with the various Toshaos, reported that the residents in the remote villages were still surviving on accumulated resources.
This publication understands that the water level is rising in some areas, while villages on the outskirts of Lethem report slowly receding water. According to weather reports from Brazil, rains will continue today and that raises concerns for the Region, since the water from the Rio Branco and Rio Negro travels into the Takutu River and contributes to the overtopping.
The Civil Defence Commission continues to monitor the situation. Its Preparedness and Response Manager, Major Shawn Welcome has been deployed to the Region to guide and give technical support to the regional bodies. The CDC took sanitary flood relief items in for the flood victims today – bleach, mops, and disinfectants. Major Craig commended the Regional Democratic Council, regional officers for activating the Regional Operating Centre, and the response to disaster preparedness. Additionally, the CDC continues to monitor the situation on the ground and provide necessary interventions to the flood-affected communities.
Since the beginning of the May-June rainy season, citizens were warned to expect higher than normal rainfall and to take the necessary precautions. However, since it began, several villages have experienced major flooding and some are still trying to rebuild after the floods. The hard-hit communities were mostly limited to Regions Seven (Cuyuni-Mazaruni) and Eight (Potaro-Siparuni) as the water washed away houses, but fortunately, there were no casualties. (Lakhram Bhagirat)