− perceived easy access was abused – MP Datadin
Guyana's Home Affairs Minister, Robeson Benn defended the recent move by Government to revoke the visa-free travel order for Haitian nationals coming to the country, noting that this move was necessary to clamp down on the illegal movement of those persons to neighbouring countries.
Last week, President Dr Irfaan Ali signed an Immigration Revocation Order, effectively removing Haiti from the list of countries that enjoyed visa-free travel to Guyana. With this move, Haitians will no longer enjoy the automatic six-month stay upon arrival in the country.
This was after the recent discovery of 10 Haitian teens, including one who was pregnant, who were found in a hotel at Skeldon, East Berbice, without any passport or ID. It was subsequently reported that for the last six years, over 38,000 Haitian nationals who arrived in Guyana are unaccounted for.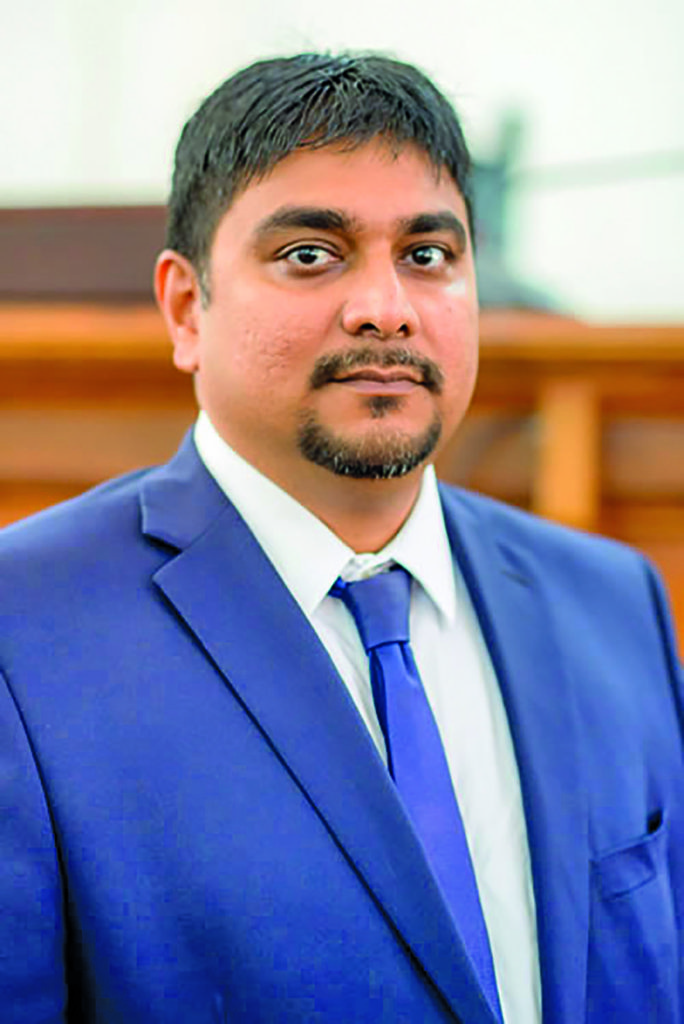 These persons are illegally crossing the borders to get into neighbouring countries and some are suspected to be victims of human trafficking.
Speaking during an online programme – Let's Talk Politics – on Saturday evening, Minister Benn pointed out that it was important that Government revoke the visa-free travel for Haitians given the gravity of the situation and the implications it would have on Guyana's standing on the Human Trafficking tier as well as the country's relations with its neighbours.
"We have to take the responsible position as a country to deal with this matter…The persons are being trafficked and they're being smuggled, and we have to pay attention to this problem…If we allow people to continue to come through in this way, we would be participating in what is clearly an illegal, criminal activity [that is] allowing people into slavery, allowing people into inhumane and degrading conditions. I don't want to be in that position as the Minister of Home Affairs and certainly not in the PPP/C Govt and certainly not in the 21st century," he contended.
Benn explained that the decision was not taken without consultations with international partners including the United Nations Commission on Human Relations (UNCHR), which recognised the need for Guyana to take such a step.
He further stated that while there is a Human Trafficking Unit in place to curb the issue of trafficking, Government will have to strengthen certain legislations in order to effectively handle the issue.
"We are aware of issues of people trafficking and smuggling also having associations with persons who are involved in drug dealing, gun smuggling, money laundering – all of those issues are wrapped up in one if you look at it holistically," he asserted.
Minister Benn also posited that this practice opens up the path for corruption in the local immigration system.
Further, he added that similar challenges of trafficking and corruption are being experienced by Brazilian authorities. He explained that while Brazil also has a visa-free entry policy for Haitians, the border between the two countries at Lethem, Region Nine is currently closed due to the COVID-19 pandemic and not only are persons breaching the closure but also imposing health risks when they sneak into the country.
Nevertheless, Benn posited that while Guyana welcomes persons here especially those who have skillsets that can be used to make meaningful contributions to the development of the country, this opportunity is not being utilised by most Haitians.
In fact, similar sentiments were expressed by Government Member of Parliament and Attorney-at-Law Sanjeev Datadin, who contended that instead of taking advantage of the opportunity Guyana is offering, persons are abusing this "perceived ease" of travelling.
"When you establish visa-free travel to your country it's to allow people to come experience your country better but what has happened, the perceived ease that exists when there is not visa required is real because… you claim to be coming to the country to visit or to work or to explore or to do business but this is not what is happening… They are moving on but they are not doing so legitimately. We would welcome persons who come to Guyana to visit to engage or to work. That is why we have visa-free travel but it's being abused… it's being used on a scale for a purpose that is sinister and we can't sit by and allow that to happen," the renowned lawyer insisted.
Moreover, Datadin went on to outline that Guyana is in no way banning Haitians from coming into the country. He said they are allowed to do so at any time but would now be subjected to visa requirements.
"All that would be required is that you would have to upfront indicate what is your position and where you're going to be. The visa process means that we'd be able to obtain more information. A visa doesn't mean that you're not allowing Haitians to come. It just means that we're are hoping that we'd be able to welcome those who'd want to come to Guyana for the purposes of being in Guyana and participating in the development of Guyana but not to those who want to use Guyana as a gateway and as a stepping stone of further things, and to be part of or to create a larger criminal enterprise for which Guyana is unwittingly a participant. We can't allow that to happen," he posited.
Meanwhile with Guyana being flagged as a transit point to get to neighbouring countries in the region, mostly with the intention of eventually getting to the United States through Mexico, Datadin posited that Guyana has to be accountable to its neighbours as well.