… Hampton Court airstrip also sold
Kayman Sankar, a popular rice company, has sold a number of properties including Essequibo Coast and Blairmont, Berbice rice land less than three years after the Kayman Sankar passed away.
Sankar was acclaimed as Guyana's most successful rice farmer/miller, who rose from poverty to become a millionaire and a household name on the Essequibo Coast and Guyana as a whole.
The late rice miller's son, Beni Sankar, confirmed to Guyana Times on Wednesday that several properties were sold, pointing out quickly that the decision to sell had nothing to do with issues facing the industry. Among the properties sold the Hampton Court Airstrip, aquaculture farms, rice fields, estate houses and cattle.
"It has nothing to do with the decline it was for different circumstances," he explained.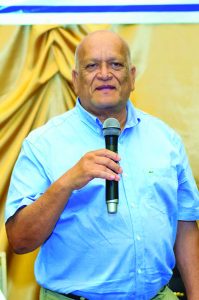 While Beni Sankar did not want to comment further on the sale of these properties, he said as it currently obtained, the rice industry was in a good state, but there were a few issues that could be addressed.
"Maybe the farmers are not getting the preferential treatment they used to get. So, maybe that is a big issue. What has mostly happened there is that their profits have gone down," he emphasised.
The Chief Executive Officer (CEO) of Kayman Sankar and Company Limited told this publication that in most instances, when rice farmers take their capital to the bank, they were more likely to receive three to four per cent interest.
"And most farmers clear 20-25 per cent. And now if they don't make that a crop or so, that's a big scream. And what you have to bear in mind also, is that there are too many small farmers," he opined.
According to him, farmers, who operate with 25-30 acres of land, cannot earn a living wage in Guyana, adding that with no other form of employment, this could lead to a lot of societal problems.
"It's not an easy situation, but I think the industry is in a relatively good state," he added.
Questioned whether there was need for more markets, Sankar said even if more markets were opened up, it all boiled down to the price offered for rice and paddy.
"You can sell how much rice you want, but it's the price. As a matter of fact that applies to any product. If you give it away at a low price, people will take it," he further stated.
Guyana recently reached an agreement with Mexico which will allow for the export of an estimated 150,000 tonnes of rice and paddy to Mexico duty-free before year-end.
Despite this, there has been a general decline of rice prices on the international market over the past few years. This trend has had more consequences for some rice-producing countries than others.
The implications for the Caribbean and Guyana have already been realised, and have already threatened the comparatively high prices that were enjoyed in years gone by.
Nevertheless, Agriculture Minister Noel Holder had revealed that rice production was expected to increase by 1.3 per cent in 2017, although there was a decline during 2016 by 12.7 per cent to 600,000 metric tonnes due to El Niño weather conditions.
Holder said that a number of farmers had exited the industry owing to the loss of the high-priced Venezuelan market, but explained that 3311 hectares were lost out of the 76,717 hectares sown.
It was reported that production for 2015 was 1,058,129 tonnes, which was equivalent to 687,784 tonnes. That was 80,840 tonnes or 8.27 per cent higher than the production for 2014.
>>>>>>>>>>>>>>>>>>>>>>
Photo saved as: Beni Sankar
Caption: Beni Sankar