– says this would not have occurred had Amaila Hydro been in place
In presenting several arguments as to why the Government should move swiftly to reduce the Excise Tax on petroleum products, thereby creating a reduction in the price for fuel at the pumps, Opposition Member of Parliament (MP) Irfaan Ali said if this is not done, it could have severe repercussions.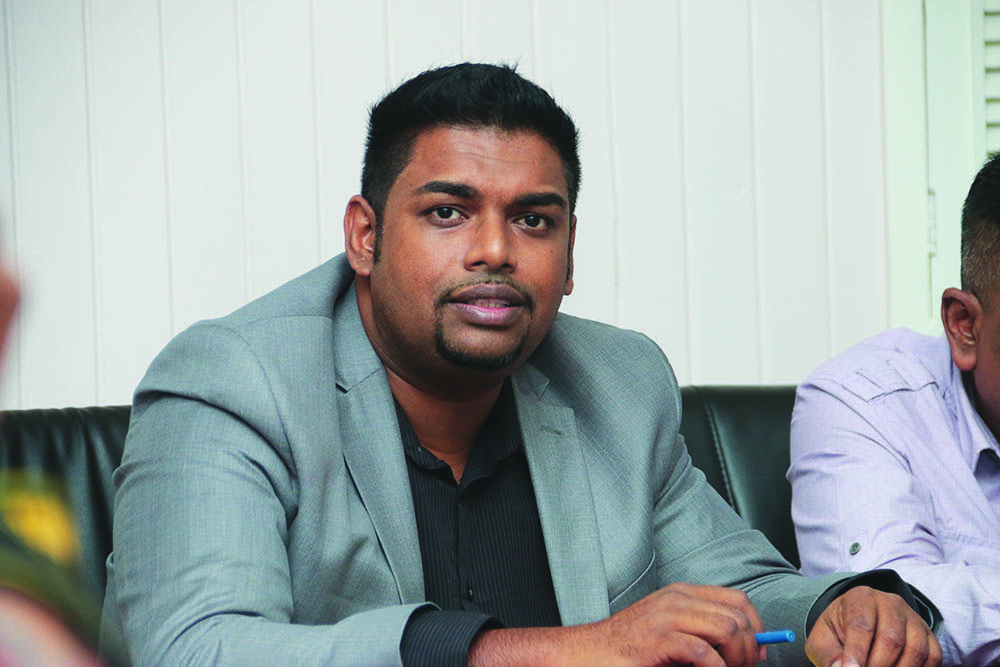 Ali believes that Guyanese continue to pay for what he described as the gross incompetence of the coalition Government. "If the price of fuel does not reduce, the spillover effect of a rise in inflation, and unemployment is imminent… None of this would have occurred, had the Amaila Hydro been in place."
According to the former People's Progressive Party (PPP) Government Minister, public enterprises, with the exception of the Guyana Oil Company (Guyoil) have registered huge budget deficits since 2015 and seen massive reductions in deposits at commercial banks.
Therefore, Ali contended that the needed reduction in the price of fuel could be accommodated by Guyoil. However, he said, a unilateral reduction without the ease of Excise Tax by the Government, to benefit private service stations, will be counterproductive since there will be an unlevelled playing field.
"Thus, the Government first needs to ease Excise Tax on fuel importation, followed by a reduction in fuel price by Guyoil. Given the market share of Guyoil, other private service stations will follow," he added.
In making several key observations, the Opposition MP said at present, global oil price is the same compared to November 2008. However, price of local gas stations in November 2008 is less than present by 15.5 per cent at $194. Global oil price in January 2015 (under the previous Administration) and September 2017 was same. However, the 2015 price is less by 15.1 per cent at $173.
At same level of global oil price, the price of fuel under the People's Progressive Party/Civic (PPP/C) Government was significantly less when compared to that of the A Partnership for National Unity/Alliance For Change (APNU/AFC) Government.
Ali also noted that Guyoil benefited substantially, post 2015, from low market prices of oil. He therefore explained that if the projected $3 billion after-tax profit was achieved by end of 2017, total profit generated by Guyoil during the last three years would exceed 2008-2014 total level, by more than 10 per cent.
"By not reducing local fuel price in relation to global oil price since 2015, Guyoil was able to increase its profit margin significantly. Given Guyoil's high profit margin, the company could afford, presently, to reduce fuel price and ease growing economic burden," he added.
Impact
Whatever Government choses to do will have an impact on the economy and Guyanese at large. The MP said with a price increase, and the rising tide of oil prices, it will surely lift all prices of commodities. In other words, commodities could see, imminently, a violent increase in prices.
"Reduced purchasing power, could mean consumers not only would see a reduction in purchasing power at the fuel pumps, but overall, as prices increase, disposable income will shrink, "he explained.
Further, it could also impact low production levels, as rice farmers, loggers, small and medium-scale miners, could see a reduction in level of output, as fuel price increases higher production cost, adding downward pressure on profit margin, could see downsize in operation.
But what was most worrying of all is the fact that this could impact the increased level of unemployment. As operation shrinks, the demand for employment will fall. Hence, higher unemployment level.
Amaila
Meanwhile, Ali did not fail to mention the Amaila Falls Hydro Project for which the coalition Government quashed for what the PPP has long argued was mainly because of "political vindictiveness." However, the former Minister has long argued that Guyanese are being robbed of cheap and more reliable electricity.
Ali said had the project been in place, it would most likely have resulted in the Guyana Power and Light Inc (GPL) reducing its generation cost by approximately 50 per cent. It would have also allow Guyana to avoid importing approximately US$200 million in fuel per annum.
Instead, Ali said that project would have brought price stability of local fuel, as the current global oil price volatility would have had less impact or effect on domestic fuel price. It would have led to increased production, which would have resulted in cheaper electricity would translate into lower production cost. "Hence, less cost would have increased competitiveness among local manufacturers and possibly lead to an increase in export. It would have reduced cost of imports, increasing foreign exchange due to savings would mean appreciation of domestic currency…reduced cost of import, increased purchasing power."