By Brandon Corlette
He is still one of the fastest bowlers in the Caribbean. The journey of Ronsford Rodwick Beaton has certainly been a roller coaster; from injuries to being suspended from bowling due to an illegal bowling action.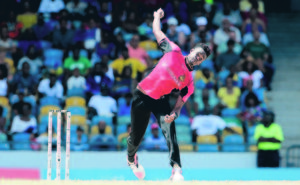 This strong and talented fast-bowler, who hails from Essequibo and was born in Montserrat, has only played two One-Day Internationals (ODI) for the West Indies. They were in 2017 against New Zealand.
In December 2017, during his time in the ODI colours, he was reported for a suspect action and was suspended in May from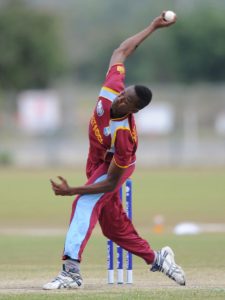 bowling internationally, but was allowed to bowl in Regional cricket. In August of 2018, Beaton was cleared to bowl again. He missed the Caribbean Premier League (CPL) in 2018 to work on his action and was replaced by Ali Khan in the Trinbago Knight Riders franchise.
During the latter part of 2018, the hard-working seamer was playing in the Bangladesh Premier League for Dhaka Dynamites. He then had a tough going for the West Indies B team in the Regional Super50 in 2018 but Beaton returned to the local scene in Guyana in the 2019 Cricket Guyana Inc. (CGI) Franchise.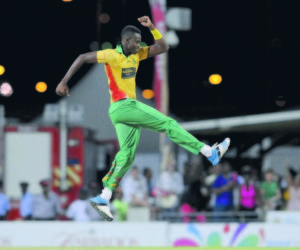 The 27-year old Beaton demolished the local lads when he rocked the Essequibo colours and seemed to have remodeled his action. That performance earned him a recall to the Guyana Jaguars team for the Regional Super50 Cup in the latter part of 2019. Beaton played six matches for Guyana during that period and grabbed seven wickets.
Then, in the same November 2019 during that Super50 Cup, he was again suspended from bowling. As soon as Beaton was getting into his groove, he was again, suspended. Back in 2012, Beaton represented the West Indies U-19s and he impressed with his genuine pace, grabbing eight wickets in five matches.
It was until 2012-13 that he was seen as a fast bowler with high honours. He took 16 wickets in the six matches he played in that Regional 4-Day season. He earned a deal with the Guyana Amazon Warriors post his breakthrough season. Beaton also moved to the Trinbago Knight Riders and played ten matches in the 2017 CPL. He took 11 wickets at an average of 24.54.
As it stands, Beaton's career remains promising but has been short-lived by the reported bowling action. He played 33 First-class matches and has 64 wickets. The impressive speedster also played 38 List A matches and has exactly 50 wickets in that format. In the T20 format, Beaton has a total number of 48 matches under his belt and 42 wickets to his name. He has a best T20 bowling figure of 4-9. His last First-class match came in March of 2016. Since then, Beaton has favoured the shorter formats.
However, he continues to work on his bowling action and certainly he still believes he has what it takes to succeed. Beaton is often present in the Guyana Jaguars training set-up where he looks a devastating fast bowler in the nets.
It is still curious to see how, when and where Beaton will make an entrance back into competitive cricket. Will his action be smooth again or will the microscope remain over his bowling action?