2019 BCB Let's Bet Sports 100 Balls…
ꟷ RH Tigers reach Lower Corentyne semis
The packed Berbice 2019 cricket season continued last weekend with several important matches being completed despite heavy rainfall, which affected some games.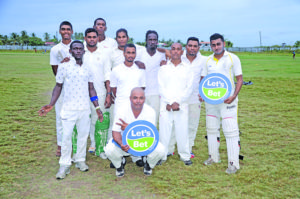 The Berbice Cricket Board (BCB) is aiming to complete all of the tournaments it started in 2019, including the Guyana Lottery Company's Let's Bet Sports-sponsored 100 Balls Tournament by the end of December. The tournament, which involves over 80 cricket teams, is being played in four different zones. The champions from these four different tournaments would then go on to play each other to decide the overall Berbice Let's Bet Sports 100 Balls winners. The four zones are West Berbice, New Amsterdam-Canje, Lower-Central Corentyne and Upper Corentyne.
Playing at the Area H Ground, Rose Hall Tigers, consisting of mostly veteran Rose Hall Town Youth and Sports Club (RHTY&SC) members, defeated Tamarind Root to become the first team from Lower Corentyne to reach the semi-finals of that zone. Tamarind Root were dismissed for 96 off 18.2 overs, with S Jugister (18); Dillip Rangasammy (15) and David Prahalad (16) being the principal scorers. Jamal Jarvis, Khemraj Mahadeo, and Therbuwan Jagdeo took two wickets for 8, 15 and 20 runs apiece respectively for RHT Tigers. In reply, the home team raced to 99 for 3 as former Guyana Under-19 player Balchand Baldeo scored 48 not out and Delbert Hicks, 15 not out. The batsmen dismissed were Mark Papannah (12); Rondalph Lewis (0) and Jamal Jarvis (4). D Looknauth took 2 for 20 in a losing cause. RHT Tigers will play the winners of the Albion versus Fyrish quarter-final in the lone semi-final match while the winners of the RHT Bakewell and Chesney game will advance to the final after drawing a bye.
Rose Hall Canje Cricket Club continued their remarkable progress in Berbice cricket by advancing to the final of the New Amsterdam-Canje Zone by defeating Police in the quarterfinals and then upsetting favourites Young Warriors CC in the semi-finals. On Saturday, they defeated Police by 103 runs. Batting first, they amassed 238 for 7 from their 100 balls with Moonsammy Verasammy hitting a majestic 126 not out while Jermone Henry (35) offered support. K Amsterdam took 2 for 20 for Police, who in reply reached 135 for 8. Amsterdam returned with the bat to score 35. Left-arm spinner Mark Sampson took six wickets for 20 and Balram Samaroo 2 for 18.
On Sunday, Rose Hall Canje restricted Young Warriors Cricket Club (YWCC) to 85 for 6 off their 100 balls, with Mortimer Fraser, Sanjay Khan and A Khan being the top scorers as Mark Sampson (2 for 12) and Raymond Vankenie (2 for 18) bowled well for the home team. Needing to score 86 runs to book a place in the final, RH Canje reached 86 for 3 in 13.2 overs. Michael Campbelle blasted a quick-fire 32 while J Henry was unbeaten on 30 as was skipper Ameer Rahaman on 11 not out. Kassim Khan and Anil Beharry took a wicket each for 7 and 17 respectively for YWCC.
Young Warriors had reached the semi-finals by getting past Betsy Ground by 76 runs at the Cumberland Ground on Saturday. They scored 152 for 4 from 100 balls with Trevon Stanislaus (76 – including eight boundaries and four sixes) and Suresh Dhanai (32 not out – including three boundaries and two sixes), leading the way. Kishan Gangaram took 2 wickets for 24 runs for Betsy Ground. Betsy Ground, in reply, were bundled out for a meagre 76 with only Y Jugister (12) and Gangaram (12) reaching double figures as Stanislaus, Sanjay Khan and Kassim Khan took two wickets apiece. East Bank Blazers have already reached the semi-finals and will play the winners of Flying Star v Guymine CC scheduled for Saturday, October 19, 2019.