– as overseas interest grows in setting up gold refinery here
Guyana and South Africa will be moving towards building greater partnerships, especially in the mining sector, following the visit of a high- level delegation of Government representatives from South Africa.
This was confirmed during a press conference held on Wednesday with Natural Resources Minister Raphael Trotman and Deputy Minister of Mineral Resources of South Africa, Godfrey Oliphant.
Trotman revealed that a declaration of intent will be signed between the two countries on Friday which will pave the way for the inking of a Memorandum of Understanding (MoU).
He said his South African counterparts have requested a five-point partnership plan from Guyana, and his Ministry has since undertaken to look into these issues.
Of paramount importance is mapping and surveying Guyana's mineral wealth, which according to the Minister, South Africa has also shown an interest in assisting in this area.
Guyana has always been advised to carry out a high-tech integrated mapping to locate and value existing and new mineral resources for effective planning and future investment.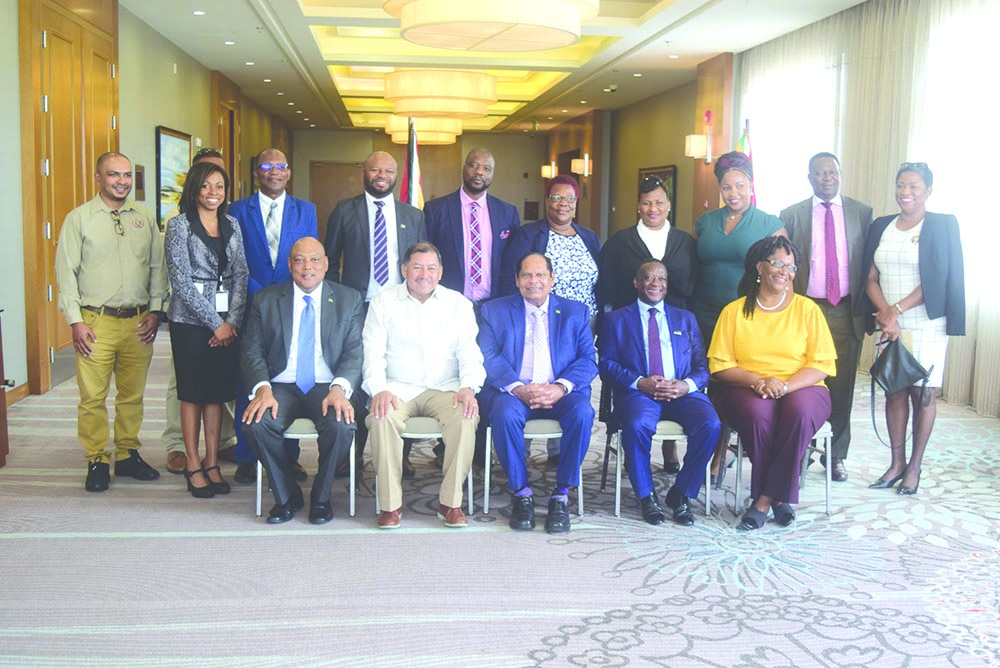 In 2010, Iran had offered to assist Guyana in mapping its mineral wealth but it was non-specific, and did not focus on any particular mineral resource. That never took effect.
At present, Guyana lacks the capability to conduct geological surveys and mapping activities in support of gold, diamond and other mining activities.
Another area of cooperation is training and capacity building in the mining sector. The South African team will be meeting with Vice Chancellor of the University of Guyana, Professor Ivelaw Lloyd Griffith.
Similar visits will also be made at the Guyana Geology and Mines Commission, among other institutions. And another important area is being able to preserve and protect our environment, while mining.
Further, the two countries will partner to look at ways to strengthen Guyana's regulatory framework of the sector. The aim is also to examine and import certain best practices from South Africa.
Guyana is also seeking assistance to increase its value-added capabilities. Minister Trotman pointed out that Guyana has for many years been a producer of gold and diamonds but export large shares annually.
Currently, the vast majority of gold, more than 600,000 ounces, annually are being exported.
Refinery
On that note, Trotman announced that various companies in countries like South Africa, the United States, India and Dubai have all offered to help set up a gold refinery here.
This stems from earlier discussions held with a South African company and Government last year to set up an oil refinery here with the aim of modernising the sector.
Oliphant on the other hand said that the establishment of a refinery is one of the ways Guyana can stamp out the smuggling of gold out of the country.
The idea of exploring for diamond and gold offshore Guyana was also pitched. Trotman said it is something worth considering, especially if South African can lend assistance in that regard.
The South African Deputy Minister of Mineral Resources also revealed plans to assist Guyana with finding cheaper alternatives to the use of mercury in the gold mining sector.
The Government has made a commitment to reducing mercury emissions by 55 per cent within the next five years, and a long-term goal of completely eliminating the chemical's use by 2027.
One of the alternatives is using ingredients used in bleach for clothing, which is friendlier to the environment and more cost effective, simpler and more reliable.
While one of Guyana's challenges is illegal mining, the African country is being faced with a significantly high depth of its resources, sometimes kilometres deep.
Guyana and South Africa established diplomatic relations on November 4, 1994.