Laxity on govt transgressions
In light of People's Progressive Party/Civic Chief Whip, Gail Teixeira writing Police Commissioner Leslie James over recent comments made by Finance Minister Winston Jordan and Prime Minister Moses Nagamootoo in defiance of the CCJ ruling, Opposition Leader Bharrat Jagdeo is confident that the Guyana Police Force (GPF) will do what it is mandated to do.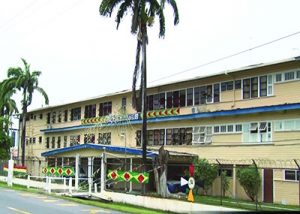 But in the same breath, he stated that while he has confidence in the country's security forces, there are attempts in certain quarters to treat issues in a "political fashion" especially when the Government is being accused of a crime.
"Anytime this Government breaks the law they just duck the issue or not pay attention [to] it. And then an attempt to magnify or expand anything that the Opposition remotely does not even as half as egregious as what they are doing to magnify those and to launch big probes etc into those. So that is what I am worried about, the trend that is creeping in and it is confined to a few leaders of the Police Force that we know of," the Opposition Leader told reporters at his recently held press briefing.
Jagdeo emphasised that actions are only being attributed to a few leaders and not the GPF by extension.
"Our policemen work hard. Many of them have issues and they have big concerns about what is going on in the GPF. There are individuals there who take direction, these are the people who have to be probed, a Commission of Inquiry (CoI) into these individuals, they are the ones who are breaking down all the systems in there."
Less than a week ago, in a letter to the Top Cop, Teixeira referenced media reports quoting the two officials while on a Government-sponsored outreach in Bartica.
She referenced Jordan's call for citizens to be ready to protest for house-to-house registration. She also made reference to Jordan saying "war break" as he called for street protests.
Another reference was made to Jordan saying that regardless of the CCJ ruling, house-to-house registration must be carried out. Meanwhile, she referenced quotes attributed to Nagamootoo, in which he warned of "trouble" if house-to-house registration was not completed.
In her letter to Police Commissioner Leslie James, she reminded him of his calls on March 21 for Guyanese to remain calm and keep the peace. She also reminded him that he had warned at the time that persons breaching the law would be held accountable. According to Teixeira, these statements are inciting and a threat to public order and safety.
"Your statement of March 21, 2019, is more relevant now than then, as we have now the rulings of the CCJ, the highest court, and we are all, therefore, expected to abide by the CCJ rulings that the No-Confidence Motion is valid and elections must be held within the shortest time," Teixeira wrote.
"I, therefore, call on you as Commissioner and the custodian of public safety and order to carry out your mandate vigorously and to publicly defend, preserve, and protect the rule of law and the Guyana Constitution in our nation."
Since the ruling of the CCJ on Tuesday last, which stated that the APNU/AFC Government was defeated by the Opposition's No-Confidence Motion in December of last year, Jagdeo noted that the responses by the APNU/AFC coalition Government and President Granger have been in defiance and portray non-acceptance despite their public declarations and that the President is unwilling to act in accordance with the country's laws.
The Constitution says that following the passage of the No-Confidence Motion, the President and Cabinet must resign and elections held within three months of the Motion. That deadline elapsed since March 21, 2019, with Government having spent much of the time in court seeking to overturn the Motion rather than ensuring elections were held.
The latest Government official to join the bandwagon in publicly declaring non-acceptance of the powers of the CCJ is State Minister, Dawn Hastings-Williams, who on Friday rejected the CCJ's appellate jurisdiction.
During a bizarre protest staged by several Government Ministers and a few A Partnership for National Unity (APNU) supporters outside the Guyana Elections Commission's (GECOM's) headquarters, where they were calling for house-to-house registration before elections are held, Hastings-Williams voiced her blatant disregard for the CCJ as Guyana's final court of appeal by saying that that court has no authority to issue any consequential orders today, since Guyana is an independent state with its own laws.
"GECOM is the only authoritative body that will inform the Government whether they're ready or not for elections. CCJ cannot rule, Guyana has its own institution. Guyana is an independent country with its own independent laws," the Minister said.
Hastings was joined by Foreign Affairs Minister Karen Cummings, who also called for house-to-house registration before elections.