A commercial sex worker was placed on $25,000 bail by Chief Magistrate Ann McLennan after he pleaded not guilty to a robbery charge.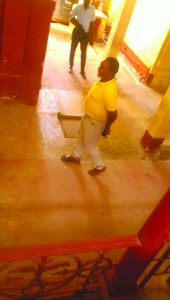 William Samuels, 23, of Enmore, East Coast Demerara, on March 5, 2017, at South Road, Georgetown, allegedly robbed Sherwayne Jackson of a wristwatch valued $250,000, one LG cellphone worth $85,000 and $7000 in cash; a total sum of $342,000.
Samuels vehemently denied any involvement in the act in court on Tuesday.
Bail was objected to by the Prosecution based on the prevalence of the offence.
Samuel related to the court that on the day in question, he and a fellow worker was approached about a business transaction when the VC was accosted by two men on a bicycle, who relieved him of the valuables and made good their escape on the said cycle.
Bail was fixed to the sum of $70,000 but the defendant plead for a reduction, telling the court that the "streets are tough."
Bail was reduced to $25,000. The case will continue on March 22.