– 768 small businesses received financial support from Govt in 2021
President of the Georgetown Chamber of Commerce and Industry (GCCI), Timothy Tucker on Friday evening stated that for any economy to remain stable in this modern age, there must be a system of small businesses to support that economy, as small businesses are the backbone of any country's economy.
He was at the time addressing the launch of Guyana's first-ever "National Small Business Week," an initiative that seeks to increase the visibility of its micro, small and medium enterprises (MSME) members.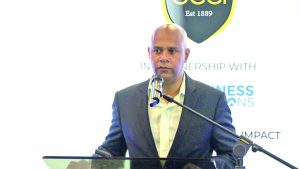 "The importance of small businesses, of micro-businesses, medium businesses, is the scope of any economy is important. Small, medium, and micro-businesses are the backbone, it is what grows any economy, it grows any country. Every single big business you see in this country was once a small business, it had to find its footing somewhere, it had to grow somewhere," Tucker noted.
As such, Tucker explained that organisations like the GCCI should strive, even harder, to fight for the development and financial support of small businesses in Guyana.
"It is important that we develop and we fight for the development of the things and the support services for small businesses so that we can grow them," he explained.
However, at the event, Research and Marketing Officer of the Small Business Bureau, Shamane Headley disclosed that almost 1000 micro, small and medium enterprises (MSME) would have received financial support from the Government in 2021.
"In 2021, for the first time since its establishment, the Small Business Bureau disbursed a total of 746 small business grants exceeding our annual target and that was quite an accomplishment. At the end of 2021, a total of 768 small businesses accessed financial support valued $377 million in the form of grants, loans, and sponsorship."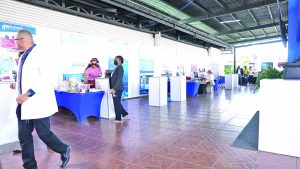 In addition, the Bureau created some 1323 jobs by assisting a number of MSMEs across the country.
"The SBB targets both start-up and existing businesses and as such our support assisted with the creation of 1323 jobs across the country," she added.
The launching of the "National Small Business Week" is a collaboration between the Georgetown Chamber of Commerce and Industry (GCCI) through its Entrepreneurship and Small Business Committee and Guyana Telephone and Telegraph Company (GTT) Business Solutions.
The week-long observance kick-started on Friday and will run until April 16, 2022. A small business expo was held on Saturday at Parc Rayne, Rahaman's Park which featured some 40 exhibitors.
Other activities during the week will include a series of online webinars, community outreaches, and special discounts on products and services from over 40 participating businesses.
GO-INVEST Chief Executive Officer, Dr Peter Ramsaroop, GTT Chief Operations Officer Orson Ferguson and Head of the National Small Business Week, Dr Rosh Khan were also present at the launching ceremony.