The South Rupununi Conservation Society (SRCS), in partnership with Guyana Tourism Authority (GTA), is currently working towards implementing a bird guide accreditation programme to provide local, national, and international accreditation for bird guides throughout Guyana.
The SRCS is also collaborating with stakeholders to help design and pilot the programme, which is anticipated to be launched by the end of July.
One of the fastest-growing sectors within the global tourism industry is avitourism, also known as bird-watching tourism. Worldwide, it has been estimated that US$9.3 billion is spent on the industry annually and the number of people engaging in avitourism has been increasing year-on-year.
Guyana is considered to be a global birding hotspot and is home to over eight hundred species of bird including the Red Siskin, Sun Parakeet, Hoary-throated Spinetail, and the Rio Branco Antbird.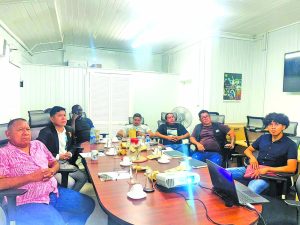 Each year Guyana attracts hundreds of thousands of tourists, many of whom visit the country specifically to spot these unique birds. With the growth in tourism in Guyana, the country has also seen an increase in tour guides who assist tourists to witness the beauty of our environment, wildlife, and culture.
Over the years, these tour guides have benefited from multiple training sessions by the GTA to help bolster the skills needed to meet the international standard of tour guiding.
In addition, the GTA has also helped to regulate the sector by creating a tour guide licensing system to ensure that the individuals leading national and international tourists around Guyana are qualified and approved to do so.
However, whilst the tour guide licensing system is essential and beneficial, it does not distinguish bird guides from other tour guides who do not specialise in bird guiding.
As a result, bird guides currently are unable to receive the recognition that they merit for their bird-spotting skills and abilities. Also, tourists find it difficult to identify bird guides who meet the standard they require for their trips or to find high-quality bird guides who do not have a good online presence.
According to the Programme Coordinator of the SRCS, Neal Millar, the idea to implement this programme was birthed from conversations with several rangers who work on wildlife research and monitoring projects throughout the Rupununi.
"This idea was created through conversations with our rangers who work on wildlife research and monitoring projects throughout the South Rupununi. They stressed that they have a lot of knowledge and are passionate about birds but have no formal qualification that they can use to seek further employment. We therefore thought this Accreditation Programme could give them something to work towards and could fill this gap," Millar explained.
To begin the process of creating the Accreditation Programme, SRCS facilitated an initial workshop with relevant stakeholders including the GTA, Leon Moore Nature Experience, Ron Allicock Bird Tours, and Visit Rupununi where suggestions were made on the design and process.
According to the SRCS, there are numerous proposed benefits of creating an Accreditation Programme for bird guides in Guyana.
"The first is that it will help to identify and recognise the experienced, skilled, and qualified bird guides in Guyana. Secondly, it will hopefully attract more bird watchers to Guyana and improve their confidence in knowing that their bird guides have been accredited. Third, there are many people interested in tourism and bird guiding that do not have the qualifications to pursue a traditional degree or diploma, this programme will therefore give those individuals the opportunity to receive accreditation without needing a secondary-level education or higher education," Millar added.