RDC house/office for APNU MP
Chairman of Region Eight (Potaro-Siparuni) Bonaventure Fredericks has acknowledged that A Partnership for National Unity/Alliance for Change (APNU/AFC) party member and Member of Parliament Rajkumarie Bancroft had been given accommodation and office within the Council's compound despite the displeasure and disagreement by other administrative staff and Councillors of the Regional Democratic Council (RDC).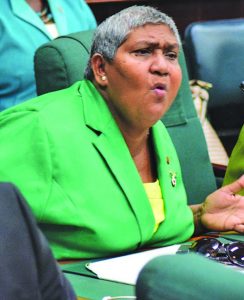 During an interview with Guyana Times, Fredericks said that regional officials were asked if MPs could have been accommodated in those regions although they were not residents so as to execute works in those areas. He noted that this position did not go down well with the RDC nevertheless, the then Regional Executive Officer, Rafel Downes, in 2015 went ahead and made the arrangement which is still in place. However, the courtesy was only extended to Government MPs.
This decision, Chairman Fredericks said, was taken despite the shortage of living quarters within the region for staff who are unable to gain accommodation at the RDC and have to stay at the regional guest house.
"It is an issue with the other administrators to have this MP accommodated. That is true that she occupies a place here although she resides in Georgetown. They [staff] are not too comfortable with it because of the shortage of quarters in our region because we have some of the employees that are not in their own quarters but rather at the guest house," he said.
Further, in response to questions on the work being done by MP Bancroft in the region, he said that she has not had a presence in the region for months now owing to a medical condition. "For the past few months she has not been active in [the] region because she has a physical condition and she is not in the region because of that issue," he stated.
Meanwhile, it was also highlighted during complaints by Councillors that the Opposition People's Progressive Party Member of Parliament Pauline Sukhai, who is the regional MP for the Opposition, does not enjoy accommodation or even an office there and is not included or invited to meetings held in that region.
Councillor Davo Ramphal told this publication that the Administration is clearly biased and only caters for its party members and supporters.
The Region Eight Councillors recently accused the Government of micromanaging and politicising the region's administrative office. They claimed that the Government Member of Parliament and the People's National Congress (PNC) office are giving instructions on how the office should be managed and sought into the internal affairs of its operations. Some of these allegations were not denied by Chairman Fredericks.
People's Progressive Party (PPP) Councillor Davo Ramphal, during an interview with Guyana Times last week expressed dissatisfaction with the way in which the RDC is being managed. He alleged that there is gross discrimination, victimisation and political interference ongoing at the RDC.
Ramphal disclosed the issue of accommodation for Bancroft, who was married to a former Regional Chairman and PNC member Ewart Clarke, that has an office within the RDC and also was provided with a house within the RDC's compound, although she resides in Georgetown. This, he said, is unfair since some of the Council's workers are forced to live at the region's guest house when the accommodation at the Council was intended for their benefit. Further, Ramphal highlighted that Bancroft was also a Board Member of the Mahdia Power and Light Company's Board up until last month when MPs were not permitted to form part of any Board.
Additionally, he stated that the Assistant Regional Executive Officer (AREO), who is also the PNC Chairperson for Region Eight, also has a permanent office at the Council, whereby, his office is supposed to be at Sub-Region One, North Pakaraimas.
Meanwhile, just recently, Communities Minister Ronald Bulkan cautioned those elected to serve on the Regional and Neighbourhood Democratic Councils to remove politics from the management of their respective communities.
He was at the time addressing similar concerns at a community meeting at Region Two (Pomeroon-Supenaam).