Some 500 young people flocked the Arthur Chung Conference  Centre, Liliendaal, Greater Georgetown, on Sunday for the Science, Technology, Engineering, and Mathematics (STEM) Third Annual Robotics Exhibition and prize-giving ceremony.
In preparing Guyana's young people to be the country's next generation of innovators and leaders, the Office of the Frist Lady collaborated with the public and Private Sector to bring the event to life.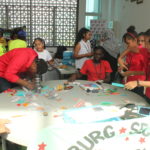 The event saw representatives of local technology companies, along with representatives of STEM clubs from all ten 10 of Guyana's administrative regions.
The Tullow Third Annual Robotics Exhibition will allow persons the opportunity to learn about drones, solar power, oil and gas and other technologies that will impact their lives in the future.
Speaking with Guyana Times, Esha Persaud, a teacher at the Greenwich Park Primary, East Bank Essequibo, explained that the STEMGuyana programme is a great initiative since it creates opportunities for students.
"It helps in creative thinking, reasoning and finding solutions to problems", she explained
Anastacia Pau Ferro, a student of Tucville Secondary, also stated that the event will assist to promote their creativity along with making adjustments to some of the country's projects.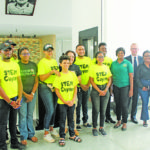 "This [is] going to benefit our school because we will put this out there and we will be showcasing the importance of this, it will bring to people's attention and we hope that they will recognise what is going on here, how important soil erosion is…" she vocalised.
Just recently, the STEM team placed 10th after battling against 164 other countries from around the globe in Dubai. The team had only four months to prepare for a competition that was new to them.
Nevertheless, prizes were awarded to several of the outstanding performers whose contributions were critical to the success of the programme in 2019.
Platinum prizes of $100,000 each were given to the two outstanding STEM club coaches, while four cash prizes of $25,000 each were awarded to runners-up in these categories.
The outstanding librarians were rewarded with $25,000 in prize money, while ten robot kits were given to 10 schools that had the most students at the exhibition.
In contrast, ten laptops were awarded to the 10 outstanding STEM clubs, while all the participants received medals and certificates of membership and participation in the National Robotics League.