…GAWU lauds Govt for keeping its promise
Sugar workers in the Guyana Sugar Corporation (GuySuCo), who have not had salary increases in over five years, will now be getting a seven per cent increase in wages and salaries, in line with what public servants also got this year.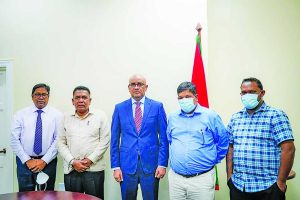 This announcement was made by Vice President Bharrat Jagdeo, in an interview with members of the media on Monday. According to Jagdeo, this decision was made and communicated to the Guyana Agriculture and General Workers Union (GAWU), during an earlier meeting.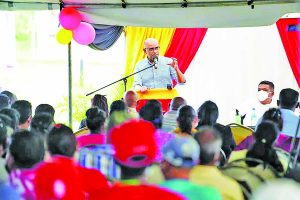 "I just met today (Monday) with the head of GuySuCo, the union GAWU and the Minister of Agriculture. The meeting was to finalise some issues. And also, to confirm the salary increase for sugar workers. Wages and salary increases," Jagdeo explained during the interview.
"As you would recall in April when I met with terminated sugar workers, I indicated that apart from the $250,000 grant that we were going to give for those workers that were terminated, there would be a salary increase for the sugar workers this year. I explained at that time that under APNU, 7000 sugar workers lost their jobs and in the five years, there were no salary increases for sugar workers."
Jagdeo noted that apart from that, the Annual Performance Incentive (API) had also been terminated. So, this left a situation during the APNU/AFC's term in office where everyone except the sugar workers were getting salary increases.
"So, the $250,000 grant was a way to alleviate some of the issues they faced. It was almost reparative justice. And we had to give a salary increase to the sugar workers this year. And I promised at that time that whatever the public servants got, the sugar workers would get. So, we decided the 7 per cent increase would also be awarded to the sugar workers."
The move has meanwhile been lauded by GAWU, which issued a statement on Monday. According to GAWU, it is a case of Jagdeo and the People's Progressive Party (PPP) Government keeping their word, since Jagdeo had promised a pay increase for sugar workers since earlier this year.
"It is well-known during the life of the David Granger Administration sugar workers were treated like unwanted stepchildren. Their wages were frozen at 2014 levels while their colleagues in other sections of the State's employ benefitted from annual pay adjustments. During that period, they suffered immensely as the cost-of-living rose appreciably while their real wages tumbled," the Union said.
In computations, GAWU pointed out between 2015 and 2019, sugar workers' real wages declined by some 42 per cent. "For the Union it appeared that the industry was received special focus by the former Government and no attempt was spared to extract maximum punishment on the thousands who depended on its operations for their livelihood," GAWU said in its statement.
According to GAWU, the five years of the Granger Administration brought hardships and challenges on the sugar workers. They noted that these increases will go a long way towards having sugar workers reclaim what they lost and also will boost the workers as they approach the holidays.
Viability
Meanwhile, Jagdeo also spoke of future viability of the sugar industry, which he said is linked to the Government's ability to really diversify the industry and decouple it from sugar. Efforts are underway in this regard.
Jagdeo explained that the Government is hard at work creating alternative employment for former sugar workers in areas where they were unable to reopen estates closed by the former Government.
"The key idea was to create alternative employment for people, in areas where we could not return to sugar, that APNU had closed the estates. Right now, there is a plan at Wales, I spoke about that when I met with laid off employees of GuySuCo, that will generate thousands of jobs."
"Our plans for Wales development and the West Coast, in Region Three. And we've already seen many of the people who were working in GuySuCo, absorbed in those activities. And there will be new opportunities there," Jagdeo said.
According to Jagdeo, the same thing is being done at Enmore on the East Coast of Demerara (ECD), where they are working on developing industrial estates. He also spoke of a large private development that will come on board and absorb persons who've lost employment on the ECD.
It was only recently that Finance Minister, Dr Ashni Singh had spoken of the Government's efforts to establish the Enmore call centre, one of the several projects that languished under the previous APNU/AFC Government. Singh had said that once operational, the call centre will provide over 300 jobs once it is operational.
When it comes to Berbice, where the Skeldon and Rose Hall estates are located, Jagdeo lamented that it is a bit harder to attract investments and diversify operations. This has led to a return to sugar.
"In Berbice it's a bit harder and we've had to return to sugar there, because there are no other activities and its harder there to get investments into Berbice. So, timeline for viability on sugar, is linked to how quickly we can decouple sugar from other activities. So going purely after sugar itself, it would mean a longer-term return to viability," he said.
"If we can merge sugar with other economic activities on this estate, which we are trying to do, we can achieve overall viability faster, returning to break even points and overall viability. So, there are several proposals we're looking at. We're going to have to choose those proposals." (G3)