…donations to assist primary schools with kiddies' gear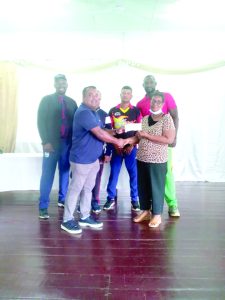 "I came here today to accompany a friend to your seminar, but I am so impressed with what I saw today that I have to make a contribution to this county. The BCB is doing a remarkable job, and your work deserves my support."
Those were the words of owner of Sunita Travel Agency, Mr Ramnarace Seegobin, as he handed over two hundred thousand dollars' worth of flannel balls to the executives of the Berbice Cricket Board at the Albion Cricket Ground.
Seegobin had accompanied his friend Esuan Crandon to a coaching seminar, and was so impressed with what he saw that he approached BCB President Hilbert Foster with an offer to assist. The donation is a major boost to the board's plan to donate kiddies cricket equipment to every primary school in the county.
Approximately seventy schools would benefit from donations of bats and balls that would allow them to participate in a historic under-11 primary schools' tape ball tournament, the main objectives of which would be to identify promising players for further coaching, and to assist clubs to attract promising players to their membership.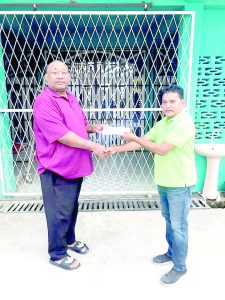 The BCB is also aiming to revive passion for the game at the under-11 level as it strives to ensure the rich legacy of Berbice cricket is kept alive. Sunita Travel Agency is based in New York, and is very popular among Guyanese living there.
The BCB also received a contribution from the Double R Business Entity based in Bath Settlement, West Coast Berbice. This entity has donated balls which would be handed out to the fourteen primary schools based in Region Five.
Managing Director of the Double R Business Entity, Mr Ramoutar, has said he is delighted to assist the development of cricket in the county as he has been very impressed with the current development and progress being made.
Ramoutar spoke of the importance of sports being an alternative to keep youths away from drugs and crime. Double R operates a hardware business, and is the distributor of NAMILCO products in the region.
Foster has disclosed that distribution of the cricket equipment would be completed by the first week in February, and the tournament would start shortly afterwards.