As the investigation into the murder of Upper Corentyne hire car driver Deonarine Laljit continues, a 15-year-old school dropout has confessed to the killing.
B Division (Berbice) Commander, Assistant Commissioner Ian Amsterdam told the media on Thursday that Police have so far received a confession statement from the teenager. He said, however, the investigation is still ongoing.
Laljit, also known as "Baba", 37, of Lot 223 Number 72 Village, Corentyne, was allegedly stabbed Wednesday afternoon by the teenager who regularly travels with him.
A post mortem conducted on the body on Wednesday gave the cause of death as shock and haemorrhage and a stab wound to the neck.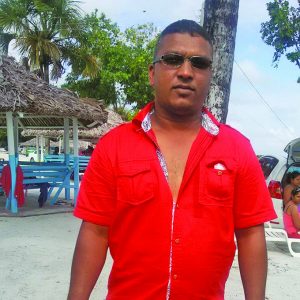 Meanwhile, the teen's father said he has secured a lawyer on behalf of his son. He has, however, expressed concern that he was not allowed to be present when the Police were questioning the 15-year-old boy.
However, in the presence of Attorney-at-Law Chandra Sohan, the boy, who dropped out of a senior high school, related that the driver would frequently tease him about his elder sister.
The father did not explain in detail the circumstances, but said his eldest daughter was from Number 72 Village, the same village where the now deceased man lived. "My daughter and her husband separate and he take somebody else…," the man related, while suggesting that the taunts may have been in relation to his daughter being without a husband.
The man described his son as being willing and quiet. "He is a quiet child, all the time he does spend at home…he used to pay my bills, go to the market and so, because his mother is not too healthy. Most of his time, he is at home, he's not a boy that got friends and go out in the streets," the father of six said, adding that what his son has done was "unbelievable". However, he noted that while he was aware that his son would have to face the wrath of the law, he was pleading for some sort of counselling. (Andrew Carmichael)