A 19-year-old is now dead after a tyre he was pumping air in, exploded, causing significant injuries to his face and neck.
Dead is Joshawn Allistair Sevon Goddard.
The incident occurred at about 13:20h on Monday at Johnson Vulcanising Shop located at Old Kara Kara, Mackenzie, Linden.
According to information received, employees of the vulcanising shop said Goddard, of Self-Help Housing Scheme, Amelia's Ward, Linden, was attending to a heavy-duty tire, when they heard an explosion.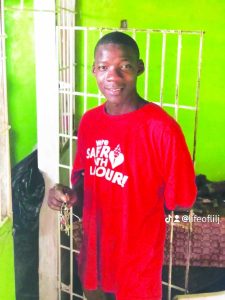 Upon checking, he was seen lying on the ground with his neck and face slashed.
According to Maverline Johnson, a 69-year-old pensioner residing at Old Kara Kara, Mackenzie, Goddard was a family friend employed as a labourer in her family's vulcanising shop for the past year.
Johnson told Police she was upstairs in her home and Goddard was attending to a truck tyre when she heard a loud explosion from the vulcanising shop.
The woman said she looked through her window and heard her granddaughter screaming. She told Police that her 25-year-old granddaughter was inside the wash bay, which is about 30 metres from the workshop.
Johnson said she rushed into the workshop and observed the teen lying motionlessly, with a wound to his neck and what appeared to be blood oozing.
The Police were subsequently alerted and when ranks arrived on the scene, the body was observed in a pool of blood, clad in short black pants, a green jersey and black slippers. Police said the body had a gaping wound in the centre of the neck. Several tyres, rims and tyre shop tools were discovered around the body. At the time of the accident, the teen was allegedly not wearing any safety gear.
He was taken to the Linden Hospital Complex where he was pronounced dead.
The matter is currently being investigated by the Labour Ministry.
In September 2022, 17-year-old Urick Glen Henry of Evelyn Landing, Corentyne River, Region Six (East Berbice-Corentyne), who was a labourer, died after the tyre he was changing on a skidder exploded. Reports at the time was that the teenager was airing up a skidder tyre using an air compressor from a motor lorry, when the tyre exploded, causing him to be flung about 15 feet into the air. He then fell onto the ground and became motionless. His father had related that the teen's entire face received injuries, his right hand was broken and blood flowed from his mouth.