…200 acres of land earmarked; cultivation to start in Regions 4, 9, 10
With help from India, Guyana will soon start the trial cultivation of millet in Regions Four, Nine and 10 with the aim of transitioning to large scale production. Not only will this be a potential crop for export, but it will also boost food security locally.
President Dr Mohamed Irfaan Ali made the announcement over the weekend, during a virtual address at the launch of the Global Millet Conference in New Delhi, India. According to the President, millet has the potential to boost rural income and support poverty reduction.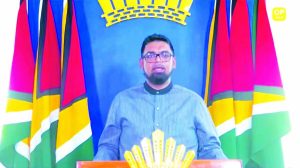 He noted that Guyana itself will soon start test trials in at least three regions, with help from India. Moreover, 200 acres of land will be made available for exclusive millet production, in exchange for India's technical guidance and support, as well as technology and technology transfer for millet production.
"Guyana has identified the production of millets as having great potential towards enhancing national and regional food security. As Caricom implements vision 25 by 2025, to reduce the food import bill by approximately US$1 billion by 2025, millet is an ideal solution to increase self-sufficiency and reduce the reliance on imported cereal grains."
"Guyana looks forward to strengthening its cooperation with India, to kickstart large, medium and small-scale production of millets. India is the largest millet producer in the world. And through collaboration, Guyana hopes to embark soon on the sustainable production of millets."
The President explained that Guyana has the optimal conditions for millet production and moreover, this project will be a major boost to the regional 25 by 2025 vision. He noted that the areas earmarked for millet cultivation, all have a good record when it comes to growing other similar crops like corn and soya.
"Guyana is considered an ideal eco-zone, with optimal conditions for the growth and development of millets. Our warm climate will allow for the conducive soil temperature, that is essential for the sprouting and germination of the millet seeds," the President further said.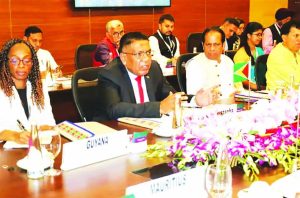 "Based on the minimum soil and climatic requirements, Guyana will commence trials to produce millets in three areas across the country. Region Four, Region Nine and Region 10. These identified areas represent the cropping zone in which similar crops like corn and soya are adapted and are being produced on a large scale."
Agriculture Minister Zulfikar Mustapha is currently in India and participated in the roundtable discussion. The year 2023 was declared the International Year of Millets by the United Nations General Assembly.
Earlier this year, it had been announced during a state visit to India that President Ali asked India's Union Minister of Agriculture and Farmers Welfare, Narendra Singh Tomar, to send a team of experts to set up a millet farm in Guyana. Consequently, Ali had reassured that the Guyana Government will extend all help needed in the production and promotion of millet in Latin American and Caribbean countries (LAC).
The Guyanese President, who currently heads Caricom's Sub-Committee on Agriculture and Food Security, had also invited Minister Tomar to visit Guyana as the Chief Guest at Caricom's Agri Forum set for August this year. His keynote speech would focus on agriculture as a whole but millets in particular.
Minister Tomar, in his remarks during the meeting, said that the International Year of Millets 2023 will provide an opportunity to increase global production, efficient processing, and better use of crop rotation and promote millets as a major component of the food basket globally.
The first crops of millets were cultivated in Asia and Africa, later spreading as an important food source for advanced civilisations around the world. With these two continents considered as the production and consumption centres for millet crops, the major producers of the grain are India, Niger, Sudan, and Nigeria.
Due to the low glycaemic index (GI) being gluten-free, it helps in a slower release of glucose over a longer period of time thus reducing the risk of diabetes mellitus. Millets are rich sources of minerals like calcium, iron, zinc, phosphorus, magnesium, and potassium.
It also contains appreciable amounts of dietary fibre and vitamins such as folic acid, vitamin B6, beta-carotene, and niacin. The availability of high amounts of lecithin is useful for strengthening the nervous system. Therefore, regular consumption of millets can help to overcome malnutrition. (G3)