Head Coach of the Port Mourant Prem Kennard Under-15 team, Leslie Solomon, has been happy to see the strong performance put in by players of his team, after a 37-run win against Rose Hall Canje Arborsmarts in the final of the Tenelec Inc U-15 tournament.
Solomon has worked hard with the players, and Port Mourant have now clinched back-to-back titles. In an invited comment, Solomon expressed his happiness with the team's performance.
"We started initial training since last year, before the competition started, and we played three matches, won all three games. We won against Rose Hall Town, Albion and Upper Corentyne, and on that basis, we advanced to the quarter-finals, where we defeated Edingburgh and Cotton Tree in the semi-final and we beat Rose Hall Canje in the final; so, I am happy," he said.
"We also have four players in the Berbice Under-15 training squad, and they performed creditably well, so we have players with potential," Solomon said.
In the final, played at Albion, Ravin Boodwah claimed the "Man of the Match" award with a fine all-round performance. Batting first, Port Mourant Prem Kennard posted 93 all out in 31.4 overs. Ravin Boodwah top-scored with 26, while extras contributed a healthy 45 runs.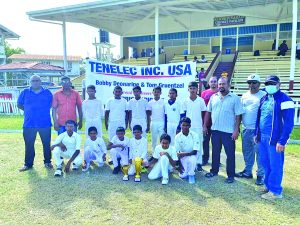 Bowling for Rose Hall Canje Arborsmarts, Romario Ramdeholl had 3 for 8 off 8.4 overs, while Nicholas Hall had 2 for 25 off 7 overs. Enrique Mickle had 2 for 29 off 7 overs, while Abdulla Azad, Eric Souvenir and Adrian Hetmyer each grabbed a wicket.
In reply, Rose Hall Canje Arborsmarts fell short by 37 runs when they were bowled out for 56 in 27.1 overs. Romario Ramdeholl and Jaden Edwards each made 10.
Bowling for Port Mourant Prem Kennard, Ravin Boodwah had 4 for 4 off 10 overs, while Shamar Daniels took 3 for 22 off 8 overs and Navin Boodwah took 2 for 13 off 4.1 overs, to do the damage.