The Guyana Defense Force Boxing gym will be looking to make this year lucky number 19 as they hunt another title win in the Terrence Ali National Senior boxing competition.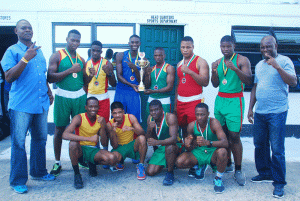 Traditionally this year's Terrence Ali National Open will be the final statutory tournament on the Guyana Amateur Boxing Association's calendar before the Guyanese pugilists prepare for the regional stage.
The National Open which is named in honor of one of Guyana's most prolific boxer's, Terrence Ali will punch off next weekend in a three night affair. The National Gymnasium, Mandela Avenue will be set alight from November 1st to third, as boxing gyms from all around the country compete to dethrone the ever consistent Guyana Defense force who has won the title 18 times.
The Terrence Ali National open will present boxing fanatics with the chance to witness the likes of Keevin 'Lightening' Allicock in action. Allicock eventual opponent will be in for a tough fight as this is the 20 year Old's first fight on home soil since February and is expected to be his last for a while, given his plans for specialized training overseas.
In addition, Caribbean champions middleweight Desmond 'Dynamite' Amsterdam and 'The Beast from Berbice' lightweight Jamal Eastman, will be on show. Another attraction on the cards for next week's competition is former Caribbean light welterweight Champion Colin 'Superman' Lewis.
The first punch will be thrown at 7pm on each night and tickets cost $500 for the stands and $1000 for ringside.
As is the norm, the Terrence Ali National Open will be used as an opportunity to scout and select prospective pugilists for the Caribbean Boxing Championship. The Guyanese team will travel to twin island republic, Trinidad and Tobago, for the tournament which is scheduled to run from December 4- 9.
Terrence Ali is a Guyanese boxer who lived and competed in the United States, where he was very successful. Out of 70 fights in his career, Ali had 52 victories, 21 of which were knockouts, 15 losses and 2 draws.