…despite miners' fears of decline in sector, unavailability of concessions
Natural Resources Minister Raphael Trotman has responded to critics on the performance of the country's natural resources sector, emphasising that his statistics speak for themselves.
He defended his record when asked about the criticisms on Saturday, at the Alliance For Change (AFC) National Executive Conference (NEC). Trotman pointed to the level of gold production as an indication of a good job.
"There're lies and then there're statistics. We have never had the level of gold production that we've had before. Despite the removal of both Barama and BaiShanLin from the forests, we only dropped 15 per cent below where we were in 2015 and 2016," he said.
"In the area of oil and gas, we are making monumental progressive steps. So I believe that I'm being singled out simply because I'm doing such a good job. It could not be that the natural resources sector is in any peril. In fact, it has been (exceeding) all the expectations of the international financial institutions."
According to the Natural Resources Minister, if there is a criticism that his performance as Minister was not up to par, "it tells me that I'm doing very well and I will continue to let the statistics speak for themselves".
The 2017 Budget had included several new taxes, but relative to the gold industry, there was an increase in contributors' tax from 10 to 20 per cent. This announcement was accompanied by a two per cent tax on gross earnings.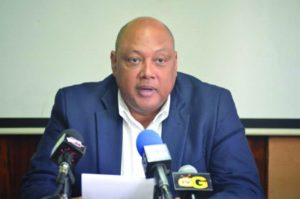 In addition, certain goods and services will now attract Value Added Tax (VAT), while miners would also have to file for income tax returns every year-end.
The new tax measures are scheduled to take effect after they are assented to by the President and then gazetted. From the outset, however, the Guyana Gold and Diamond Miners Association (GGDMA) has resolutely stood against them.
Concerns
The GGDMA had a meeting at its headquarters on North Road and according to reports, the miners agreed that a letter would be published and also posted to President David Granger, informing him of their concerns.
It is reported that slowing down production as a form of protest was also suggested, though this was nixed in favour of their request for a meeting with President Granger. According to reports, the miners plan to peacefully protest if a meeting is not granted.
Gold production has been solid, with some 690,000 ounces of gold being declared in 2016. An agreement was also reached between the Finance Ministry, the Guyana Energy Agency (GEA) and the GGDMA for concessions.
The Government had announced that the concessions, which include duty-free concessions on imported equipment for small and medium-scale miners, had been renewed last year.
But when Budget 2017 was read, both the GGDMA and the Guyana Women Miners Organisation (GWMO) were vocal in their criticism of the $250 billion Budget.
The Association had said that the measures could only lead to lower declarations and a decline in the sector. With regard to tax compliance, the GGDMA is of the view that miners will experience difficulty when filing tax returns owing to their locality.
Pertaining to fuel concessions, the Association had complained that benefiting from these concessions was unrealistic as the GEA complicated the matter. In fact, the miners revealed that they no longer had the fuel concession option.
According to the miners, in 2015, VAT was not paid on heavy-duty equipment, matting, spares and other materials. However, the Association lamented, in 2016 VAT was required on these items and a phased reduction was implemented on their concessions.