The Alliance For Change (AFC) has appointed Prime Minister Moses Nagamootoo to a newly-created position of political adviser during the party's National Executive Conference held over the weekend.
The position has no term limit and Nagamootoo will serve on the party's Management Committee as a full voting member.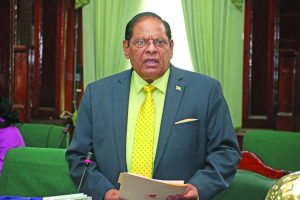 Nagamootoo had been nominated to contest for the positions of Leader, Chairman and Vice Chairman, but withdrew his candidacy on the eve of the elections, citing the need to "make space in the party leadership for a new generation of leaders".
Nagamootoo did, however, contest for a position on the party's National Executive Committee (NEC) and won a spot among the 12 elected members of the NEC.
Nagamootoo's political career spans more than 50 years, during which time he served in the People's Progressive Party. He then joined the AFC in 2011 and in 2015, was elected Prime Minister under the A Partnership for National Unity (APNU)-AFC coalition.
Nagamootoo was the AFC's incumbent Vice Chairman, but did not seek re-election. He took over the vice chairmanship of the party in 2011 following the passing of co-founder Sheila Holder, and also served as acting Chairman since April 2016 when then substantive Chairman Nigel Hughes resigned.
Raphael Trotman was elected Leader of the Party, while Khemraj Ramjattan was elected Chairman and Cathy Hughes was elected Vice Chairperson. Young businessman Marlon Williams is the new General Secretary.