– says move is sinister attempt to sideline him during recount
Chairman of A New and United Guyana (ANUG), Timothy Jonas has been asked to get tested for COVID-19 – a move which he believes is a "sinister" attempt to sideline him from the ongoing national recount.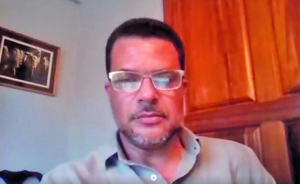 Jonas has been outspoken on the events that unfolded since the March 2 polls. Only Thursday, he was at the Arthur Chung Conference Centre (ACCC) in Liliendaal, Greater Georgetown, where the recounting is being conducted, and expressed concerns during an interview with the media over the pace at which the recount of the March 2 ballots was moving, noting it may exceed the proposed 25-day timeline.
While he did not return to the Conference Centre on Friday, in a social media video Jonas disclosed that he has since been informed by the Public Health Ministry that it has received a report of him showing symptoms of the novel coronavirus.
"[Friday] morning, having participated in the count [Thursday], I was at work and I got a call from an official of the Ministry of Public Health, saying that it had been reported that I had respiratory symptoms," an amused Jonas stated in the Facebook Live as he took a deep breath, holding it in for a few seconds before releasing.
According to the ANUG Chairman, he insisted that the Ministry write him a letter on the issue and he even offered to uplift the correspondence.
"I told them to save time, I will go and pick up the letter. And I went to pick up the letter and it says that it has been reported that I am demonstrating respiratory symptoms. This is amazing," he asserted.
Jonas said that he then spoke with an official from the Ministry, whom he noted was a professional and opted not to divulge his identity.
"I said to him, you're a doctor; here I am, there you are. As you see I have no symptoms," he recalled.
In response, however, the doctor told him that some persons are asymptomatic although they may have the virus.
An explanation which Jonas rubbished. He pointed out that how can he "asymptomatic" when there is a report in the first place claiming that he is displaying "respiratory symptoms".
"I don't want to be unkind to the gentleman but if his letter says that it was reported that I have respiratory symptoms, it's difficult for me to understand that I don't have symptoms…"
The ANUG Chairman went on to assure that he has not displayed any symptoms associated with COVID-19.
"…but there is this letter and that leads us to a more sinister question – is an attempt being made to sideline people who may be inconvenient to the authorities. You judge for yourself… I wanted to go live because going live means that I'm not in a position to edit out any cough or any sniffles," he posited.
To further highlight how ludicrous this entire episode is, Jonas explained that before he went into the Conference Centre on Thursday, health authorities took his temperature and he was told he is fine, hence he was allowed to enter the building.
He added too that his temperature was even tested earlier this week when made a trip to Berbice.
Authorities have stepped up the testing unit at the Berbice Bridge and according to the ANUG Chair, he was tested twice – while going and on his way back – and was told he was fine both times.
"So what respiratory symptoms are these people talking about?" he questioned.
Nevertheless, Jonas committed to seeking a medical examination from his personal doctor to prove that he has no symptoms related to COVID-19.
"I will get a certificate from my doctor that I'm not showing any symptoms and I will respond to the Ministry of Public Health in that regard. I asked you to all stay safe as I have been staying safe and I ask you to make your own assessment as to the truth…" he asserted.
He added that once he is given medical clearance, he will return to the Conference Centre to participate in the ongoing national recount.