…10 entities to benefit from $65M in ICT equipment
Technical and Vocational Education and Training (TVET) institutions across Guyana are now equipped to facilitate complete online classes, making it easier for students to finish the curriculum safely during the pandemic crisis.
The Education Ministry made this announcement on Tuesday after the launching was held at the Government Technical Institute.
Chief Education Officer, Dr Marcel Hutson expressed that the goal to take TVET online is a testimony to show how the sector can be improved. Consequently, persons must adapt quickly so that Guyana does not find itself in a position where Technical and Vocational Education is stagnated.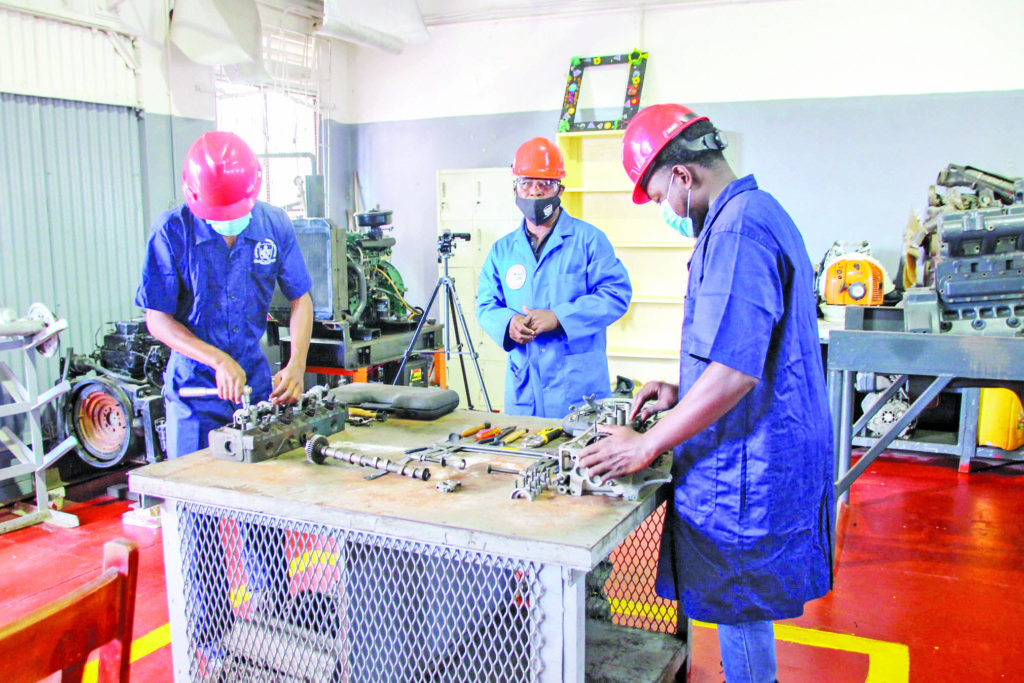 "We are keen on reforming TVET and you will see it manifested in our strategic plan, you will see that manifested in our budgetary allocation in terms of how we intend to reform TVET in our country," he said.
Meanwhile, Advisor to the Education Minister, Africo Selman explained that Government has recognised that without ICT, concepts like equal access to education and education for all would simply be slogans. In lacking the necessary human and material resources, teaching cannot be dispensed equitably so these developments will also address the gaps in geographical constrains.
Meanwhile, Deputy Chief Education Officer, Patrick Chinedu Onwuzirike said that ICT and TVET are enablers to lifelong learning. He said that the sector believes that every Guyanese can learn a skill and as such, there is the intention to deliver TVET education across Guyana.
He noted that within the Ministry, one of the indicators to determine how well these training institutions are progressing is to assess how many hinterland students attend these institutions on the coast. He said that over the years, dorms have been used to increase the number of students.
With this move to online learning, he underscored that persons from the hinterland communities can enrol into those institutions on the coast without leaving their communities, except when it is necessary for practical exercises.
Over the past few months, the institutes have started using Zoom and Moodle platforms. More than 200 lecturers, instructors and administrative staff were trained to use these platforms.
"So, we devised a means to make sure that we keep people safe, to ensure that when we have the need for face-to-face training, practical exposures, practical assessments or demonstrations, we have to timetable students in such a way that they can maintain social distancing in the workshops and the labs," the DCEO added.
The Caribbean Development Bank (CDB) is currently funding the Skills Development and Employability Project (GSDEP), and part of it was repurposed to purchase technological equipment for the institutions.
After the approval was granted, the United Nations Development Programme (UNDP) fast-tracked the purchasing of the items to the tune of $65 million. The items include 138 laptops, 12 tablets, 40 camcorders, 128 projectors and 20 cloud storage devices.
It will be distributed across secondary schools that are piloting the Caribbean Vocational Qualification and 10 TVET entities; including the Government Technical Institute (GTI), Linden Technical Institute (LTI), New Amsterdam Technical Institute (NATI), Guyana Industrial Training Centre (GITC), Essequibo Technical Institute (ETI), Upper-Corentyne Industrial Training Centre (UCITC), Mahaicony TVET Centre, Leonora TVET Centre, Carnegie School of Home Economics (CSHE) and Craft Production and Design Department (CP&DD). (G12)