The Department of Economics, Faculty of Social Sciences, University of Guyana has spearheaded a seven-day workshop under the theme "The Resource based Economy and Environment; Cooperation and Coordination for green growth" to embrace the general thinking of the green economy approach, which commenced on Saturday at the University of Guyana, Turkeyen Campus.
This programme, described as the brain child of Senior Lecturer, Dr Thomas Singh, was engineered by Conservation International (CI) Guyana and the Guyana Forestry Commission among other local organisations, which was conveniently timed to coincide with the global movement towards a "green economy" according to Head of the Economics Department, Dr Sydney Armstrong.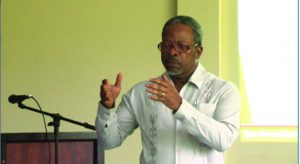 "So is our nation, positioning itself in terms of its national strategy heading to the green economy. So as the University of Guyana repositions itself to lead for playing a critical role moving towards growth and development, "going green", this initiative has definitely been one to which it will be very important and helpful in terms of disseminating information."
During the course of the workshop, renowned economists will be delivering lectures and the participants will have the opportunity to engage in discussions. Dr Armstrong further noted that at the end of the day, the dissemination of information will put participants in a position to continue to discourse beyond the workshop setting, taking back to their respective organisations, valuable information.
Dr Hector Edwards echoed the position of Armstrong, as he postulated that as we embrace the green economy approach, it is important to note that change would not occur without first recognising that not only is there another way of doing things but rather a better way of doing same.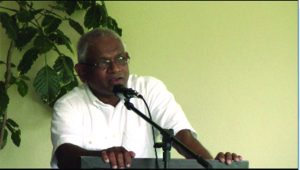 "I think the green economy approach is one that should be accepted as the better way of doing things and one which we embrace. This workshop is intended among other things, to do just that; enlighten us and force us to embrace that that there is a better way. This is the commencement of a process that overtime will see us all accepting that green economy is the best approach for us to develop as a nation," Edwards said.
He further lamented that as much as there may be other things that may be influencing us and shaping our thinking, he made it clear that while there may be things "offshore", we need to understand that "onshore "there are a lot of things to be done.
"So as we start the socialisation process, I hope that we all will embrace the things that we are told at this workshop and also spread the good news to other persons, and so you will be ambassadors…" he urged.
Conservation International's (CI) Dr David Singh announced that the organisation will be awarding scholarships to three of the participants at the end of the programme, as he stressed on CI's "We need nature" slogan, while highlighting our collective need to protect nature in order to thrive and survive.
Meanwhile, Vice Chancellor Ivlaw Griffith briefly addressed the gathering as he officially opened the floor for the commencement of the workshop.
"I'm delighted that we're doing this especially since we as a nation are in a fossil fuel mode. Notwithstanding the pursuit of fossil energy, oil and gas, we are at heart an agricultural society. We cannot in a moment of anxiety in the interest of oil and gas forget the essence of who we are to diminish the attention paid to agriculture, to greening, so in the context of that I want to thank Dr Singh and all the organisers…" he elucidated.
The Vice Chancellor concluded his opening speech by posing a question to the floor, asking "What happens after this?", as he recognised that ever so often there are valuable moments which sometimes are tend to be defined as the "alpha and the omega".
"There is an opportunity to make this the alpha (beginning) but not the omega (end) and so I look forward to hearing a little bit more about what will follow this, what will follow this in the context of extending opportunities within these environments and beyond this environment, and what tangible next steps beyond the educational conversations we might have," he advocated.