Following their defeat to DCC in the first division by the remarkable heroics of Guyana's very own Christopher Barnwell, the University of Guyana Trojans will have to face their old foes in the NBS 2nd Division 40-over semifinal at DCC, starting at 10:30am.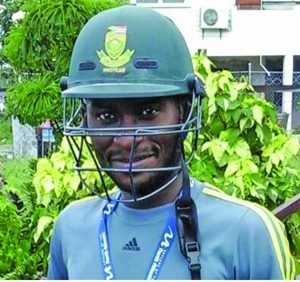 Speaking to Guyana Times Sport, Captain of the Trojans, Melroy Stephenson, said, "Well, on the 2nd division tournament, we fancy our chances. Thus far in the competition, we have invested, winning all 7 of our matches to date. We anticipate a keenly contested match against DCC, but on this occasion we expect to come out on top in the first division semifinal. It took a Herculean effort by senior West Indian player Chris Barnwell to overcome us, but with Barnwell not playing 2nd division, we don't foresee a repeat by the Queenstown-based side. As a result, we should be progressing to the finals, and wait whoever wins between Police and GCC. We are quite confident, but not complacent".
Asked who the DCC should be watchful of, Stephenson said, "In the tournament thus far, Omesh Danram has been sensational as he has scored the only hundred thus far, representing the students. A few other batters who a lot can be expected of are Linden Austin, Ershad Ali, Dwayne Dodson and myself, with my highest score being 57. In the bowling department a lot will be expected from our bowlers Ershad Ali, Dennis Heywood and Ray Newton, since both Newton and Heywood are our leading bowlers, with Ali having a 5-wicket haul to his name thus far".
With the UG Trojans currently having to prepare for a T/20 tournament in Suriname before they return to play the NBS 2nd Division 40-Over semifinal, there is bound to be tons of experience gained, and confidence to return and face DCC.