–Say Coach Dover, sharpshooter Kelsey Benjamin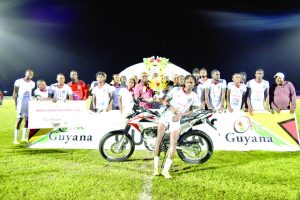 Being one goal down early in the first half was not the ideal situation the Ferrol Compound/New GPC Inc's Region 4 Team had envisioned for their final campaign in the One Guyana President's Cup tournament, but 13 minutes into last Sunday's final game, Region 3's Leo Orion Lovell put his team ahead with a well-placed strike across the face of the goal, and it brought a very sizable crowd of partisan spectators to their feet in a frenzy of premature celebration.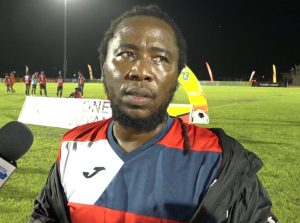 This, coupled with constant heckling from this boisterous home crowd at the National Track and Field Center (NTFC) at Leonora on the West Side, had the effect of discombobulating the Region 4 Team, and they soon found themselves in a difficult position.
However, a turnaround was written in the stars for the New GPC/Ferrol-sponsored Region 4 outfit; and, according to Head Coach Wayne Dover and highest goal-scorer Kelsey Benjamin, it was all about handling intense pressure well.
The eventual joint highest goal-scorer of the tournament, Kelsey Benjamin, has said the team's half-time talk did the trick. "We go in the dressing room and the Coach talk to we, because we had a little lack in confidence. Then we came out back with full confidence and did it," Benjamin shared following Sunday night's game.
Benjamin revealed that while there was no initial pressure on him to score, the game situation demanded it. "No! No! I know I would have scored! Very sure I would have scored!" the player said in responding to inquiries about any pressure he faced in regard to finding the back of the net in the final.
He continued, "All the games I was scoring, this is no different. This was an easy game, it's just that we go under pressure in the game, that's why we went up like this. But normal game, easy victory."
Head Coach Wayne Dover, on the other hand, is quite accustomed to this type of torque-induced pressure, although he explained that his intention was to shield his team from its effects.
"One thing I want everyone to know: December is a period with these tournaments, and New Year's Day is a historical situation for me, because I've been in this situation six times, once as a player and all the other times as a coach," Dover explained about his experience with the pressures of seasonal tournaments.
In going on to talk about high-pressure situations, Dover said, "So that kind of pressure that the fans might be placing on the team to score lots of goals and to win this tournament, I try not to allow that to take charge of my emotions; and I try to keep that from the players, and let them understand that they ought to come and play on the day and win the game."
With back-to-back goals coming in the 73rd and 75th minutes off the boots of Captain Daniel Wilson and Kelsey Benjamin respectively, Region 4 went on to clinch the coveted One Guyana President's Cup title, and in the process disappoint the expectations of a demanding Region Three crowd.