The National Sports Commission and the US Embassy partnered through the embassy's 'Sports Diplomacy' initiative, to host a basketball clinic for children.
The clinic was facilitated by Elvis Valcarcel, assistant coach for Player Development for the New Orleans Pelicans, Agnus Berenato, women's head coach at Kennesaw State University and former WNBA star guard Allison Feaster.
Well over 50 participants, both male and female, gathered at the Cliff Anderson Sports Hall and were educated on training regimens and techniques and physical fitness and nutrition over the course of two days which ended on Thursday.
Valcarcel during a media briefing at the Sports Hall pointed out basketball is a two way street.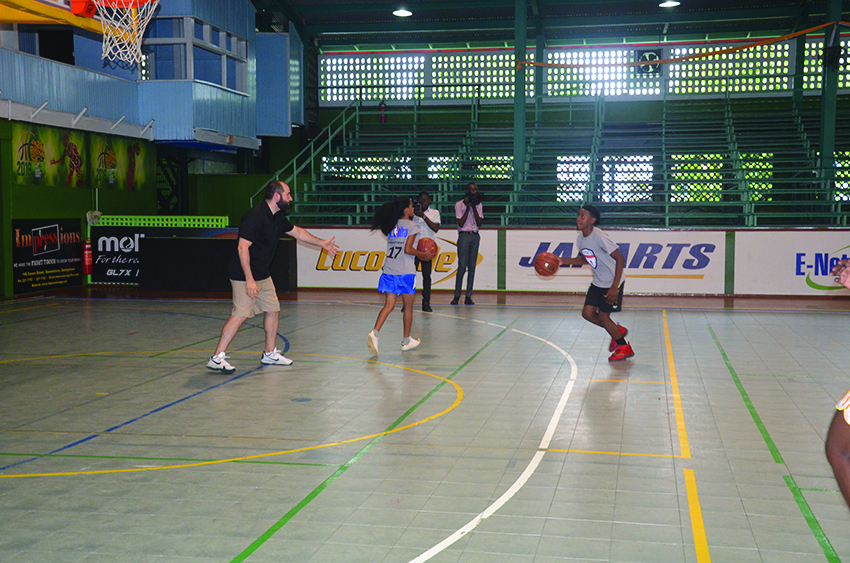 "We're bringing our knowledge of the game here for the youths to build enthusiasm, build pride and build passion for the game. But also, we're here to build on our knowledge of the game as well. We know basketball is a two-way street" Valcarcel said. .
He also noted that the initiative is all about helping young athletes to "grow" adding; "I know basketball can take you to a lot a places. It has taken me all over, helped me to meet a lot of people, so that's what the NBA is trying to grow."
The US Embassy's Deputy Chief of Mission, Terry Steers-Gonzalez underscored the importance of diplomacy in sports. He told the gathering of student athletes and coaches, that a lot has to do with finding compromise, working as a team and working under hard situations.
Meanwhile, Director of Sport Christopher Jones said the National Sports Commission (NSC) was "only too happy" to partner with the US Embassy on the programme.
"Sports throughout the world unite people, essentially, this programme will empower our athletes and basketball in general," Jones declared.
Jones also expressed hope that the collaboration wouldn't be the last of its kind. "The NSC lauds the US Embassy and rest assured this is not the first and final. We will be knocking on the doors of the Embassy, to ensure that similar programmes are had in 2018 and beyond.