At a time when the local hit "Blow" by Blaze Antonio is heating up the airwaves, local soca queen Melissa "Vanilla" Roberts' newly released hit has somehow been interpreted by fans as promoting 'blow' culture, but she assures that it is not.
The song is a feel-good tune that essentially speaks of a woman and a man – both of whom have their significant others – who meet at a party and get wrapped up in each other on the dance floor. But when the party is over at 02:00h, they part ways, with the singer simply stating in the hook: "Till we meet again". So does that constitute infidelity? Vanilla says "no".
"According to the dictionary, infidelity is the action or state of being unfaithful to a spouse or other sexual partner. So does it mean that if I go going out and party and have a good time with someone else that I'm being unfaithful? My thing is that once I don't violate my partner's expectations and trust then how is it I'm being faithful?" she said.
Vanilla recently released the song via WhatsApp and said since she has, persons have continually interpreted its lyrics to mean that the subject is cheating.
"They have said to me "Eh Vanilla, you do a blow song too?" and I can't see why people seem to think that, when all I'm talking about is that one night I decided to go out and party and leave my boyfriend alone. Men do it all the time. So as soon as a woman does it, it's blow or infidelity? Oh, come on. We live in the 21st Century. People just need to learn to live a little and be honest with their partners," she said.
She stated instead that the song, which was written by writer and producer, Burchmore Simon, is instead intended to speak about the fact that women can still have casual encounters without leading further.
This is the third track for the year from Vanilla, having been preceded by "We run things" and her fireball track "Mash up the place" which was a major hit during Mashramani. These songs are all part of her album "Who I am" which is scheduled to be released before the end of 2017.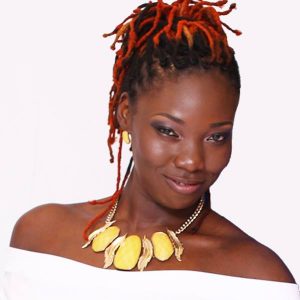 Vanilla has been among the local artistes who have called on radio stations to play Guyanese music more often. Asked whether she felt that this situation has changed, she stated that some stations and DJs seem a bit more open to playing Guyanese music these days, but there is still some way to go in that regard.
"When you take into consideration the amount of locally aired music in total, to the same amount you use to hear when the Government had their two stations, it seems as though we've moved one step forward and five backward," she said.
She further stated, "Don't get me wrong, we appreciate all the radio stations and DJs who play the music, but the fact remains that there is still too little air time given to local content."
However, she praised the stations and DJs in Linden, Region 10 who she said are well known for supporting their own artistes.
"You see when you are in Linden, if you never knew a new artiste from there, you better believe before you leave you'll catch the name of that artiste or remember a piece of their song before you leave. I often wish the rest of Guyana would adapt the attitude of Lindeners in terms of supporting their own. Whether it's locally produced food, music, craft or any other product," she said. Nevertheless, Vanilla is thankful to her own supporters who have been behind her throughout her career. That includes those DJs and radio stations who continue to support her music.
"I'm also thankful to my fans who never give up on me, my label Kross Kolor Records, my family, friends and corporate Guyana. As I continue on my journey I hope that you continue to support my endeavours," the reigning road march queen stated.
Persons interested in finding out more can keep updated at vanillagy.com.