Story and photos by Jemima Holmes
After two years, there are still many things that remain eerily familiar at the Guyana National Stadium during the Hero Caribbean Premier League (CPL). The murmurs of worry when things don't go the way of the Guyana Amazon Warriors, euphoric cheers at the sight of a flying ball, the sea of yellow flags and, of course, the sight of a nation united; that is what Providence during CPL season is all about.
It is, by now, no secret that Guyana possess one of the best crowds in the Caribbean. From the music to the cheerleaders, to the sheer electricity that transcends through the stands, it is difficult to feel down at Providence.
A testament to the power of Providence's vibes is the fact that the Warriors have rallied to four consecutive victories, on the back of their home crowd support.
So sought after are the vibes here that fans travel all the way from North America to get a taste of the Warriors' return to their home ground.
"It's been 10 years now that we've been travelling from Florida to all the islands and we always come to Guyana. We lost the final in 2019, but this year is our year. We're doing it coming from behind," Darren, one half of an overseas-based Guyanese couple, said.
His wife, Shafeeka, added, "I'm excited to finally get a win from them. Warriors all the way!"
Without a doubt, there are those who have come close to losing faith in the local franchise this year.
Another fan, Christine, shared that she was close to losing hope, but their performances at home have tugged at her heart.
She explained, "I wasn't like backing Guyana, but I'm giving them a chance, because I want to see a little improvement. They're in their country and hopefully, they can, you know, with the crowd and the feeling and the vibes, they could actually win."
"We keep saying every year is we year. Let this be we year," the young woman added with a broad smile.
Unlike Christine, the faith of Clive Lake never wavered.
"I think everything will be okay for we though. For now, 'cause we make some good runs today. Even though we didn't start good, I feel we coming back and we got this. It ain't going nowhere," he told Guyana Times Sport confidently.
Even the local celebrities are standing resolute in their support for the Warriors.
"They winning. They got to win," Guyanese songster Terry Gajraj shared with this publication.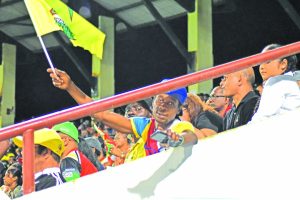 Adding to the adrenaline he feels about being at the Providence Stadium, Gajraj is even more motivated when snippets of his most popular song "Guyanese Baboo" plays whenever the Warriors are doing well.
"It feels amazing. It's such an honour, such a pleasure to be in your own country, hearing your song playing among so many other big songs," the singer added.
The love for the CPL vibes at Providence knows no bounds and according to President Dr Irfaan Ali, it has become a rich part of Guyanese culture.
"It's much more than a game for us, it's a part of who we are as a nation now. Many times you guys refer to it as the Warrior Nation and that has a strong meaning for us as a people," the Guyanese Head of State shared during a recent innings break interview at the beloved Guyanese venue.
"When CPL first started, it was a tournament with a difference. When it was first conceptualised, it was to play cricket louder, to bring a party atmosphere to cricket and that is what we're doing now," he added.
The President did not stop there in his praise for Guyana's hosting of the last leg of the Hero CPL 2022. He also tied in the country's ability to perfectly couple cricket and carnival.
President Ali explained, "What you can look forward to is exactly what you're getting – great cricket. All the matches played here had close finishes. But more importantly, you're going to see the coming together of our regional culture.
"We have a strong culture in the Region, we have high temperature parties and we're bringing that together."
Turning his attention to the Amazon Warriors, President Ali emphasised why it was important for the Warriors to do well.
He said, "I think it's very important for the franchise to do well, because the people of this country believe strongly in this franchise, support this franchise, they come out every time, they make lot of sacrifices. And I think the franchise itself, the players, their selves must know how much they're loved in Guyana."
President Ali and the hopes of the entirety of Guyana are clearly the same: for the Warrior to capitalise on the vibes at Providence to spur their first Hero CPL title victory. Now, the Warriors are in the play-offs set to begin on Tuesday, September 27. Can our collective dream finally be realised? All because of –Providence's fan support…?