Christianburg Wismar Secondary School were the only team to churn out a victory on Saturday in the Guyoil/Tradewind Tankers U18 Schools' football league, as all the other encounters ended in a drawn result.
The first two teams to have such a result were Cummings Lodge and West Ruimveldt Secondary, 3-3.
Cummings Lodge started their scoring early, in the fourth minute, by way of an Antwan Samuel strike, while Elijah Mendonca made it a 2-0 game in the 16th minute.
Nicholas James struck back for West Ruimveldt in the 21st minute, but Cummings Lodge's Fabian Figueria pushed the score to 3-1 by the half. West Ruimveldt managed to close the deficit as Trevor Bentt and Ozim Lewis found the back of the net in the 46th and 58th minute respectively. However, neither team could find the game winner in the remaining minutes of the encounter.
There were fireworks to be seen in the next game, as Milo Schools' U18 champions Christianburg Wismar Secondary School (CWSS) decimated Friendship Secondary 8-0.
Demoll Warner led the way with a brace in the 59th minute and 65th minute, but before he could come to the party, it was Daniel Adolph who found the first goal in the third minute, which he followed up with another in the 50th minute. Amani King (10th); Kemani Field (33rd); Lamar Jules (68th) and Devon Gilbert (70th) added one apiece for CWSS.
North Ruimveldt and President's College went tit for tat in the next game, which was filled with nail-biting moments. PC played well in the first segment, but just could not finish well. It was North Ruimveldt's Jevon Pluck, who excelled at this particular aspect and was rewarded with a goal in the 13th minute.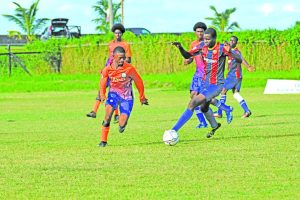 Shamar Barrington made it a 1-1 game for PC in the 36th minute and soon after the second half began, Michael Joseph pushed the score to 2-1 in PC's favour. Omar Sam also found the back of the net for North, making for a 2-2 score at the end of regulation time.
The final game of the day between Dolphin and Golden Grove Secondary witnessed an identical result.
For Dolphin, Brian Burnette (28th) and Jequan Cole (40th) were the marksmen, while Tyrese (9th) and Yannick Liverpool (57th) found the back of the net for Golden Grove.
After Saturday's results, CWSS currently leads the league with two wins. The Guyoil/Tradewind Tankers League will continue at the Ministry of Education (MoE) Ground next weekend.